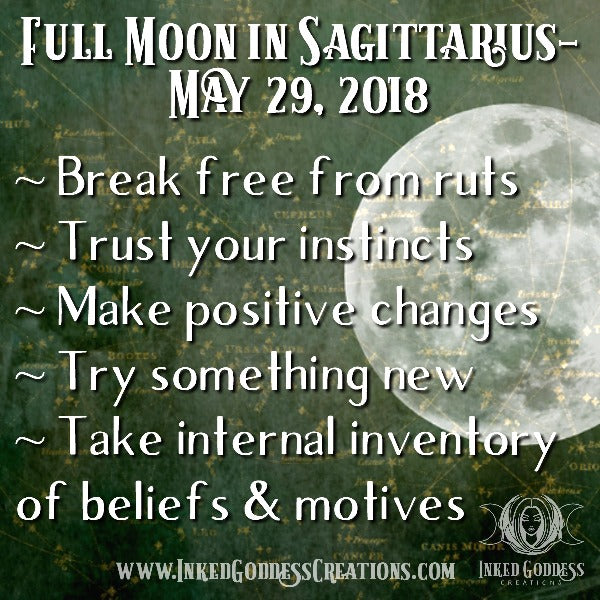 Full Moon in Sagittarius- May 29, 2018
On May 29, 2018, Full Moon Sagittarius arrives to help us review our personal truths and beliefs. It is important to stop and check to see if our current values coincide with what is happening in our environment. Gaining a new perspective can help to open our minds and our hearts to what is going well in our lives and what needs to be let go of. 
Opposite this full moon is the sun in Gemini, bringing us information to make wise decisions. Full moons trigger our deeper emotions and subconscious patterns, so be prepared to address what comes up for you now. Trusting your instincts will help you stay on the best path for your happiness! 
Sagittarius loves to travel, learn new things, and seek new experiences. Getting out of our usual routine brings freedom and inspiration, which helps us realize what intentions we want to set at this full moon!  Just remember to do something that makes a positive difference in your life!
Be Well!
-Juliana M. Fanucchi  
Author Bio:

Juliana uses astrology to understand how the planets can affect us on a mental, emotional, and spiritual level. Raised as a Nichiren Buddhist, she studies other metaphysical interests like numerology, music, tarot, and gemstones. She received her 200 hour yoga certification in December 2016. She currently lives in Tucson, Arizona. You can follow her on Instagram- instagram.com/whooliana.