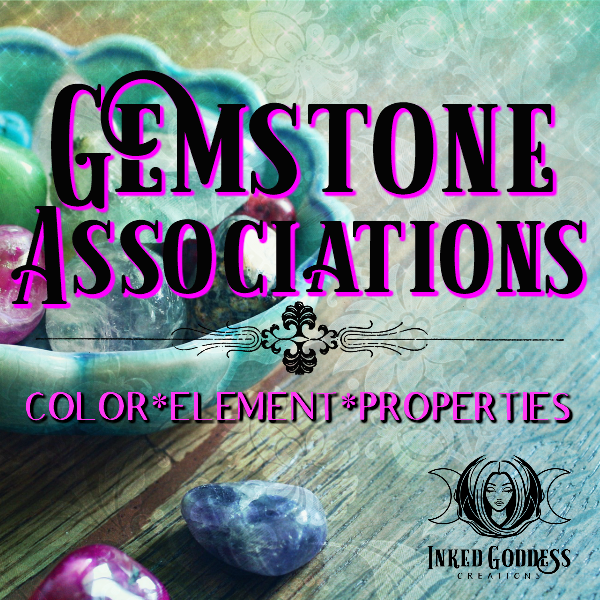 Gemstone Associations- Color, Element, Properties & More!
Gemstones have long been used in spells, rituals, and magickal workings because of their innate metaphysical properties. Each gemstone has its own set of magickal characteristics, which often relate to their color, type, area of formation, planetary alignment and more. 
Below is a basic chart of gemstone associations, divided by color. This is a great reference chart for how to incorporate gemstones into your own magickal workings!
Color

Projective or Receptive

Planet

Element

General Characteristics & Uses

Examples

Red

Projective

Mars

Fire

Protection, Strength, Willpower, Courage, Energy, Power, Blood, Birth, Lust, Sex, War, Anger

Garnet, Red Jasper, Ruby

Pink

Receptive

Venus

Water

Love, Acceptance, Peace, Happiness, Joy, Laughter, Calming, Opening, Destressing

Rose Quartz, Rhodonite, Rhodochrosite

Orange

Projective

Sun

Fire

Protection, Illumination, Personal Power, Increasing Self-Worth, Luck, Energy, Positive Outcomes

Carnelian, Orange Calcite

Yellow

Projective

Mercury/
Sun

Air

Communication, Subconscious Mind, Heightening Visualization Abilities, Travel, Digestion, Nervous System, Skin, Energy, Movement, Mental Awareness

Citrine, Yellow Zircon, Yellow Carnelian

Green

Receptive

Venus

Water

Healing, Fertility, Life, Plants, Gardens, Eyes, Kidneys, Stomach, Money, Riches, Prosperity, Luck, Love, Balance

Bloodstone, Aventurine, Moss Agate

Blue

Receptive

Neptune

Water

Peace, Calming Emotions, Sleep, Healing, Eliminating Inflammations, Purification

Lapis Lazuli, Sapphire, Sodalite, Blue Lace Agate

Purple

Receptive

Jupiter/
Neptune

Earth

Spirituality, Mysticism, Meditation, Psychic Work, Subconscious Mind, Healing, Peace, Removing Headache, Mental Illness, Depression,

Amethyst, some Fluorite, Lepidolite

White

Receptive

Moon

Water/
Earth

Sleep, Third Eye, Protection, Removing Headache, Substitute for Any Other Stone

Snow Quartz, Opal, Moonstone, Clear Quartz

Black

Receptive

Saturn

Earth

Protection, Grounding, Self-Control, Resilience. Quiet Power

Obsidian, Jet, Apache Tears, Onyx, Hematite