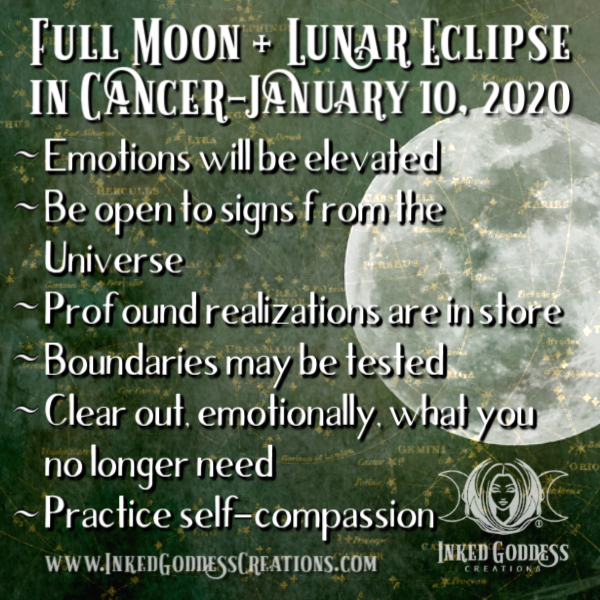 Full Moon & Lunar Eclipse in Cancer- January 10, 2020
Happy New Year! On January 10, the first Full Moon of 2020 falls under the water sign of Cancer. Combined with a Lunar Eclipse, this is bound to be an emotionally charged event. If you are already a sensitive person, you should do your best to protect yourself. However, the intuitive nature of Cancer allows you to easily sense any disharmony in your current relationships, and do what is best for you!
The zodiac sign Cancer is ruled by the Moon, which makes this Full Moon extra strong. Lunar Eclipses are known for bringing significant changes into your life that you may not feel you are ready for. Lucky for us, there will be 4 planets (including the Sun) in earth sign Capricorn. If an opportunity arises that feels overwhelming during this Cancer season, you can tap into Capricorn's ability to be sensible! For the most part though, you should be open to how the universe wants you to grow on a soul level. Realizations you have now will be profound and help you to purge your life of what no longer serves you. 
Cancer also rules over the Heart Chakra, meaning your boundaries may be tested. This brings a chance for you to communicate your true thoughts and feelings in a way that can be understood by others, especially those closest to you. You may feel the need to temporarily retreat into your comfort zone, which is fine as long as you use your time wisely. Try not to escape from the world and instead get to know your true feelings about your current life path. To make use of this sensitive time, create a safe and stable place for yourself somewhere in or near your home. Practice self-compassion by asking yourself what you need to let go of, and what you are clearing space for in the coming year.
May 2020 bring newfound happiness for you!
- Juliana M. Fanucchi
Author Bio:
Juliana began studying astrology at a young age.  She believes that through understanding how the planets affect us, we can learn how to use their energies to better ourselves and our lives.  Juliana studies other metaphysical subjects including numerology, tarot, gemstones, and practices Nicherin Buddhism.  In 2016, she earned her 200 hour Yoga Teacher Certification. She currently resides in Tucson, Arizona.