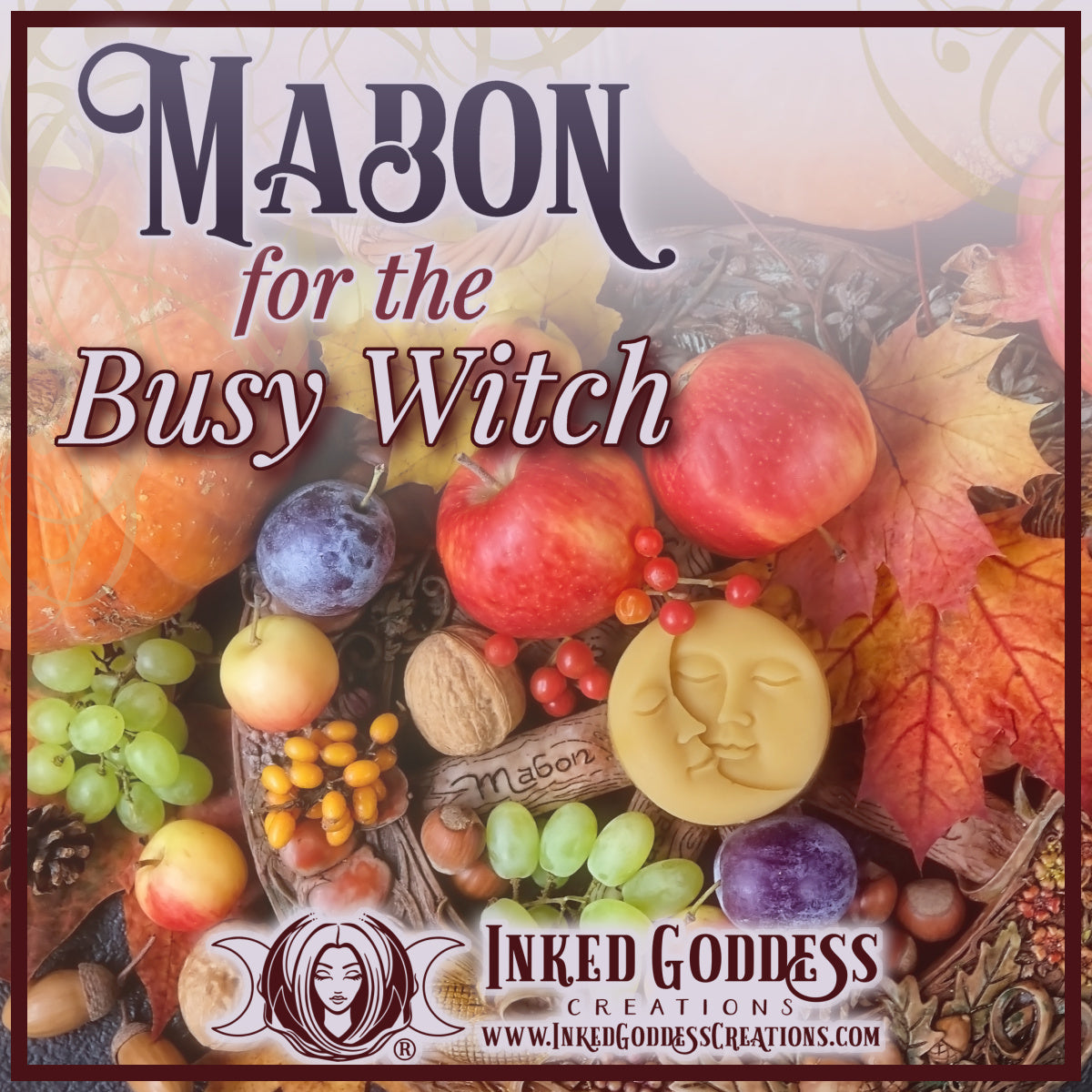 Mabon for the Busy Witch
Mabon falls on the Autumn Equinox, and for us witches, it's an excellent day for practicing gratitude and balancing our energy. It's also a great time to celebrate what we've accomplished this year. Even if you're a busy witch, you can celebrate this beautiful sabbat and quickly honor your practice. We promise you have time to celebrate! Here are some ideas.
Colors for Mabon
Mabon heralds the start of autumn, so when it comes to colors, think fall: pumpkins, hay bales, scarecrows. Mabon's colors include:
Jewel tones
Oranges
Reds
Yellows
Browns
Wear a shirt in these tones on Mabon, choose a different color eyeshadow for the day, or wear jewelry in Mabon's colors, and bam! You've got one step done.
Mabon Altar Ideas
When you decorate your altar, even if it's small, keep it in those colors and incorporate anything you see in the front of your grocery store or craft store this time of year. Fall décor seems to be overflowing on the shelves everywhere, so it's easy to find what you're looking for.
Fall leaves – real or fake from your favorite craft store – acorns, pinecones, and other natural elements are perfect for Mabon.
Pumpkins, gourds, apples, and multicolored ears of corn can be found at the grocery store, and are also great for decorating your Mabon altar!
Use fake plants in your décor, too – select them with intention, and you'll experience the same magick.
Busy Witch Tip: Dollar Tree is one of our favorite places to source inexpensive, reusable altar decorations.
Herbs, Oils & Scents
Especially at this time of year, scents might be the easiest way to celebrate Mabon. Everything's pumpkin spice-scented this time of year, so grab a pumpkin spice candle to bring the smells of autumn and the sabbat to your home. Here are some other scents, herbs, and oils:
Cinnamon
Clove
Orange
Chamomile
Apple
Myrtle
Vervain
Angelica
Blackberry
You can use wax melts, burn candles, or create a cauldron simmer (simmer pot) in a pot in your kitchen to infuse your home with beautiful scents.
Busy Witch Hack: Purchase a mini crockpot and use it for your simmer pots!
Gemstones
Some of the more traditional gemstones for Mabon include:
Amber
Aquamarine
Brass
Opal
Sard
Yellow Topaz
Here are some other interesting ones Morgan has found over the years that are great for Mabon:
Tourmalinated quartz – for balance as Mabon falls on the Autumn Equinox when the day and night are equal lengths.
Hematite and Black Tourmaline combination gemstones (or use them together!) – for grounding. The Black Tourmaline is great for scrubbing negative energy and Hematite is super grounding. It's perfect for shadow working.
Hematite – for grounding
Agates – especially brown and black Agates. They're grounding and protective.
Carry gemstones in your pocket, wear them as jewelry, or place them on your altar. 
Easy Practices for Mabon
Gratitude Jar
A gratitude jar is excellent for any time of year, and especially at Mabon. Just take little slips of paper and write down what you're grateful for. Place them in the jar, and you can read them later when you need a pick-me-up. Or, save them for Samhain and read them for the Witches' New Year.
Earth Balance
Because Mabon is all about balance and equal day/night energy, you can go outside, barefoot, and connect with the earth easily. Close your eyes and imagine drawing that grounding energy up through your body. The energy is already balanced on the Autumn Equinox, so it's nearly effortless to tap into that balanced vibe.
Kitchen Witchery for Mabon
Food is a super easy way to celebrate the sabbat. The following foods a perfect for Mabon celebrations.
Apples
Nuts
Pumpkins
Root vegetables: carrots, potatoes, etc.
Pressed for time? Stop by your grocery store and purchase an apple or pumpkin pie for dinner. It's all about intention, and busy witches are BUSY! You don't have to make anything from scratch. Infuse the pie with your intentions as you cut and serve it to your family. Mabon is about gratitude – not about how much you do or what you create from scratch.
A ready-made meal with mashed potatoes or carrots in it also works! Remember, it's your intention and your magick that count.
Busy Witch Hack: Warm Apple Cider and Pumpkin Spice Lattes count, too!
Blessed Mabon, witches! We're grateful for you.