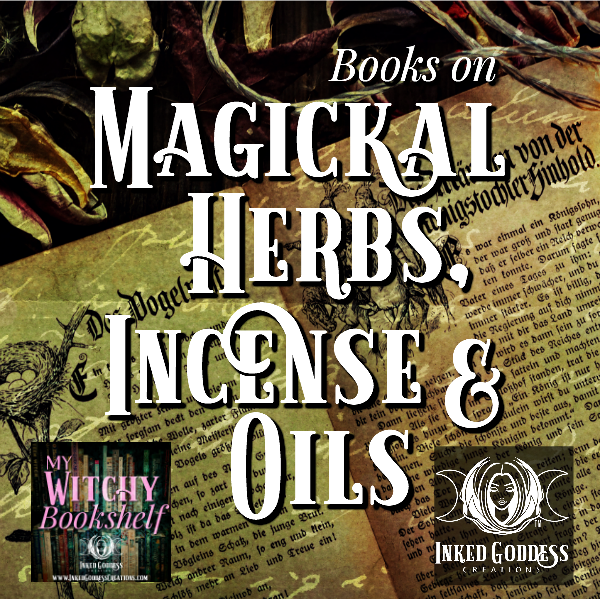 My Witchy Bookshelf- Magickal Herbs, Incense and Oils
Welcome to the second installment of our Inked Grimoire series- My Witchy Bookshelf. These segments feature books found on my personal witchy bookshelf (Morgan- owner of Inked Goddess Creations), that personally resonate with me, that I can honestly recommend to those interested in the subjects. The video series will be split up into subjects, with this post about books on Magickal Herbs, Incense and Oils.
I started out wanting to learn about the magickal properties of herbs. The first book I picked up was Encyclopedia of Magical Herbs by Scott Cunningham. It gives you tons of info on herbs, their magickal correspondences (element, gender, planet, etc), and their magickal properties. It is more of a reference guide, so when I wanted to move into using magickal herbs, I went on to...
The Complete Book of Incense, Oils and Brews by Scott Cunningham. This book helps you apply the knowledge of magickal herbs to make incense, powders, baths, oils, simmers, etc. The back of the book has a great quick reference of herbs by magickal purpose, by element, by zodiac sign, etc.
Ancient Wisdom: Master Grimoire by Pat Kirven Sawyer is another book I recommend for blending incense, oils, powders, etc. I found out, when editing my video below, that this book is no longer in print (though I do make reference to it possibly being no longer available) but used copies can still be acquired on the internet.
When I wanted to move into oil blending, I started with The Aromatherapy Companion by Victoria H.Edwards. This book is overflowing with amazing information on essential oils, carrier oils, how to blend them for medicinal and metaphysical purposes, and even has some starter recipes.
I also recently acquired Magical Aromatherapy by Scott Cunningham, which focuses on the metaphysical properties and applications of oils. I've only had it a few months, but it is already turning out to be a pretty useful guide.
These are the books I personally recommend for anyone interested in working with magickal herbs, incense and oils.
The video segment, which goes into more detail about the books, is below, and you can always subscribed to our YouTube Channel to be notified when we upload more videos in this series!