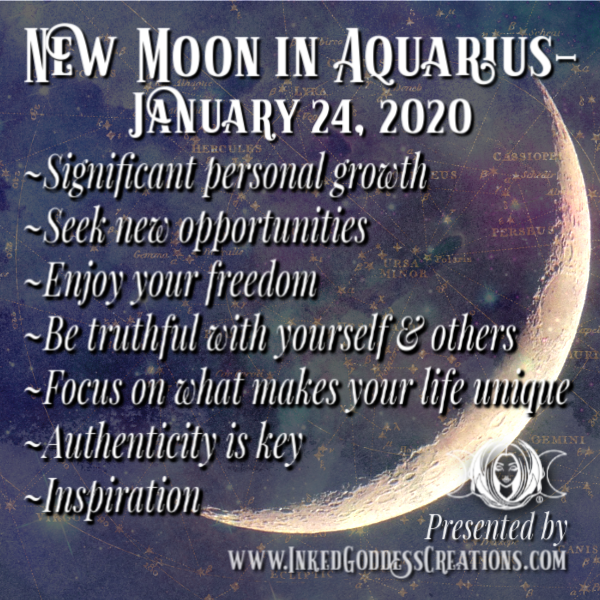 New Moon in Aquarius- January 24, 2020
January 24 brings the first New Moon of the decade! This year is an opportunity for significant personal growth. Curious air sign Aquarius will inspire you to take a deeper look at yourself and your environment. This New Moon offers you an interesting glimpse into the year ahead. 

Aquarian energy reminds you to enjoy your freedom, seek to learn new things, and meet new people! Thinking outside the box can open your mind to the out-of-the-ordinary. You can learn to identify what it is that makes your life unique! 

New Moon in Aquarius wants you to become more honest with yourself and others. Superficiality won't be very useful to you now. This New Moon is a time to make real, genuine connections, as friendships are important to Aquarius. When setting New Moon intentions, focus on attracting what you really want, and be prepared to see the end results in ways you least expect!

Wishing you an eccentric New Moon in Aquarius!


- Juliana M. Fanucchi
Author Bio:
Juliana began studying astrology at a young age.  She believes that through understanding how the planets affect us, we can learn how to use their energies to better ourselves and our lives.  Juliana studies other metaphysical subjects including numerology, tarot, gemstones, and practices Nicherin Buddhism.  In 2016, she earned her 200 hour Yoga Teacher Certification. She currently resides in Tucson, Arizona.