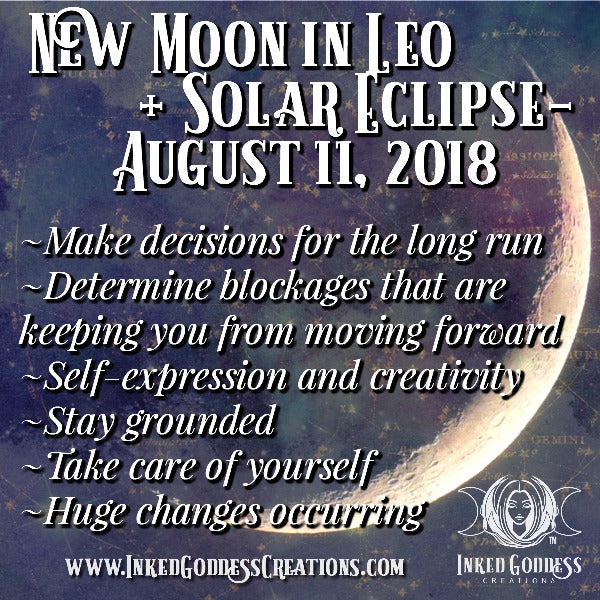 New Moon in Leo + Solar Eclipse- August 11, 2018
On August 11, the new moon in Leo is also a solar eclipse, making this third and last eclipse in a row. T
his new moon and solar eclipse teaches us about our own pride, our need for self expression, and creativity. A regular new moon is a time to create a new intention for the following month, while a solar eclipse is about making decisions that determine your future in the long run! 
Leo is the sign of self-love and courage. If you've been feeling confused, irritable, and anxious about the future then you're not alone! There are many planets in motion that are forcing us to make changes in our lives. This is a time of realizing who we are now and what blockages are in the way of us moving forward. 
Planet Mercury is still in retrograde, which can cause confusion and communication issues. Any misunderstandings that come up now will most likely be dramatized thanks to passionate Leo. Find ways to stay grounded so you won't overreact in the heat of the moment. It is especially important to take care of yourself first before taking any action! Listening to our own needs helps us to feel refreshed and full of self-love and appreciation! Treat yourself out to a nice restaurant, give yourself a mini spa day or just get some much needed rest. That way you'll be feeling your best and attract the right opportunities for your present and future happiness!  Wishing you all a happy New Moon! 
Be Well! - Juliana M. Fanucchi
Author Bio:
Juliana uses astrology to understand how the planets can affect us on a mental, emotional, and spiritual level. Raised as a Nichiren Buddhist, she studies other metaphysical interests like numerology, music, tarot, and gemstones. She received her 200 hour yoga certification in December 2016. She currently lives in Tucson, Arizona. You can follow her on Instagram- instagram.com/whooliana.