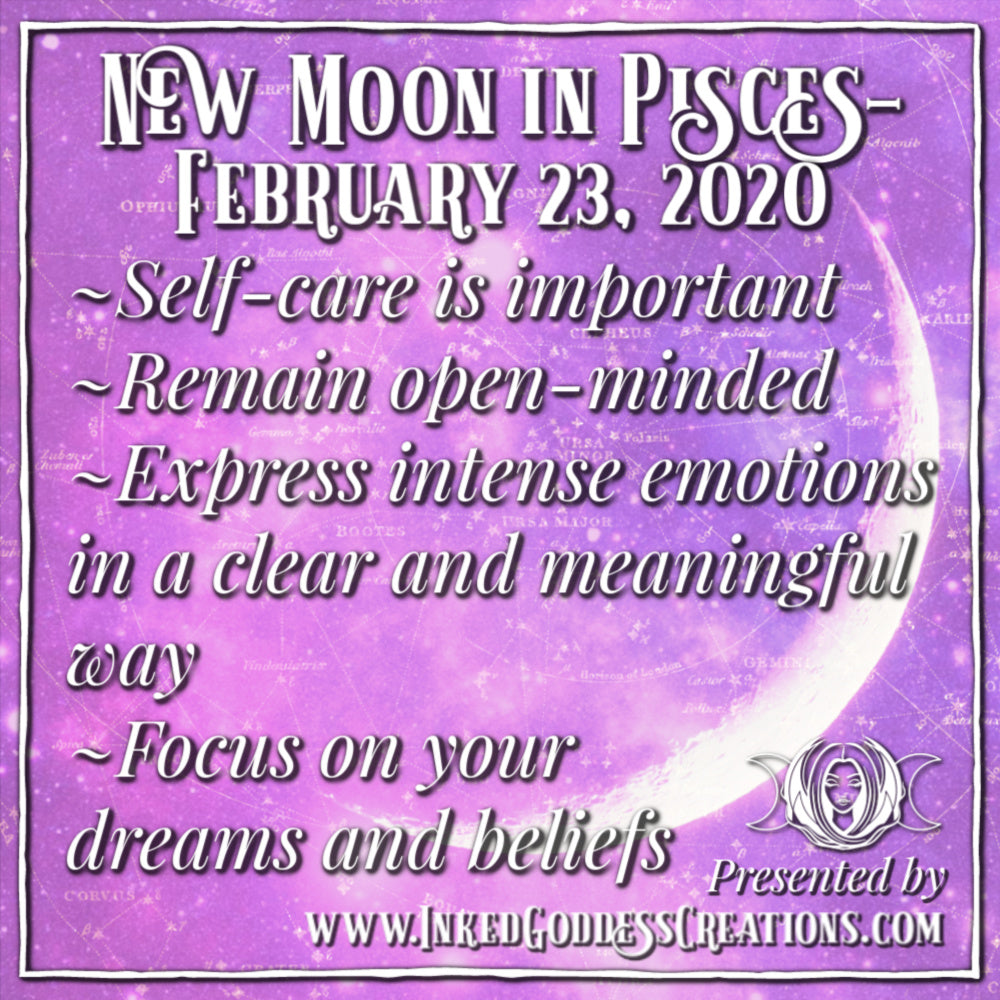 New Moon in Pisces- February 23, 2020
February 23rd welcomes the New Moon in water sign Pisces. This New Moon is fairly harmonious due to nearby planetary aspects. The main elements of this New Moon are water (Pisces) and earth (Capricorn). The combination of these energies will be expressed in the visions we will all feel inspired to create! 


Mercury has been in retrograde since February 17 and will end on March 10. Mercury Retrograde during the phase of Pisces can cause you to feel foggy and indecisive. Although this can be frustrating, it also offers you the chance to grow in a certain area within yourself. In this case, with Mercury retrograde traveling through intuitive water sign Pisces, it is your dreams and beliefs that will be tested.

Pisces know how to practice self-care and channel natural artistic gifts to create beauty. The dark side of this water sign is when things feel overwhelming, Pisces tend to escape from the real world whenever possible. Always remember that feelings are temporary. You should recognize any intense emotions now and express these emotions in a meaningful way. When setting your New Moon intentions, allow yourself to be open-minded. This time offers a chance for you to realize some new goals and desires!

Wishing you an eye-opening New Moon in Pisces!

- Juliana M. Fanucchi


Author Bio:
Juliana began studying astrology at a young age.  She believes that through understanding how the planets affect us, we can learn how to use their energies to better ourselves and our lives.  Juliana studies other metaphysical subjects including numerology, tarot, gemstones, and practices Nicherin Buddhism.  In 2016, she earned her 200 hour Yoga Teacher Certification. She currently resides in Tucson, Arizona.