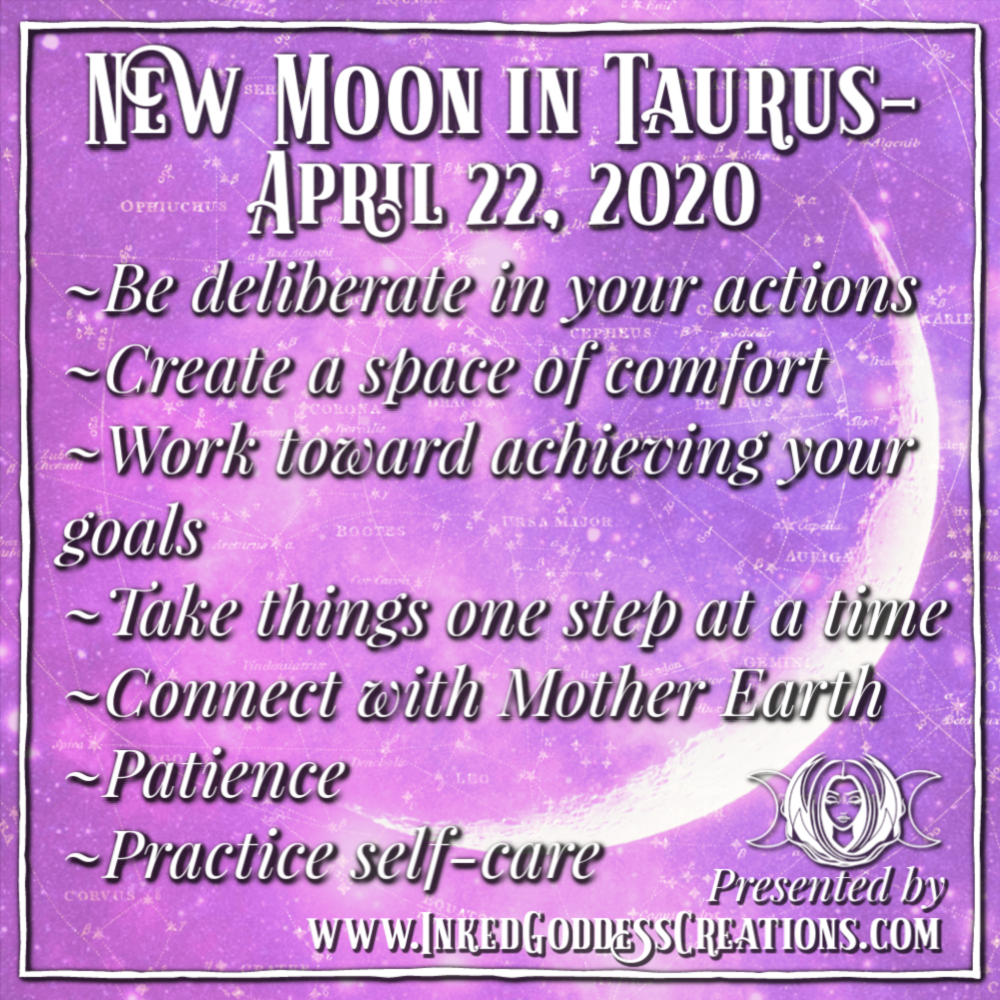 New Moon in Taurus- April 22, 2020
On April 22nd, the New Moon in Taurus brings unexpected events. This is due to the moon being conjunct Uranus and square Saturn. These planets have different energies- Saturn representing boundaries or restrictions, and Uranus representing surprises. Take caution with this New Moon by being deliberate in your actions.


Taurus is ruled by Venus, the planet of love and beauty. Creating a foundation of stability is important to Taurus, and since we are all having to stay home, we have the time to create a space of comfort. This will be helpful if you start to feel like you don't have as much control as you are used to having. The best thing to do during this uneasy time is be patient!

Taurus is a sign of hard work and consistency. You can use this energy to motivate yourself to keep on top of your responsibilities. This may be more difficult to achieve than usual, and you could feel pessimistic or depressed. Use the Taurus energy to take things one step at a time, practice self-love, and take extra care of your health!  Spend time in nature, get your hands dirty while gardening, or walk barefoot in the grass to connect with Mother Earth. 

Wishing you a nurturing New Moon in Taurus! ♉️
-Juliana M. Fanucchi
Author Bio:
Juliana began studying astrology at a young age.  She believes that through understanding how the planets affect us, we can learn how to use their energies to better ourselves and our lives.  Juliana studies other metaphysical subjects including numerology, tarot, gemstones, and practices Nicherin Buddhism.  In 2016, she earned her 200 hour Yoga Teacher Certification. She currently resides in Tucson, Arizona.