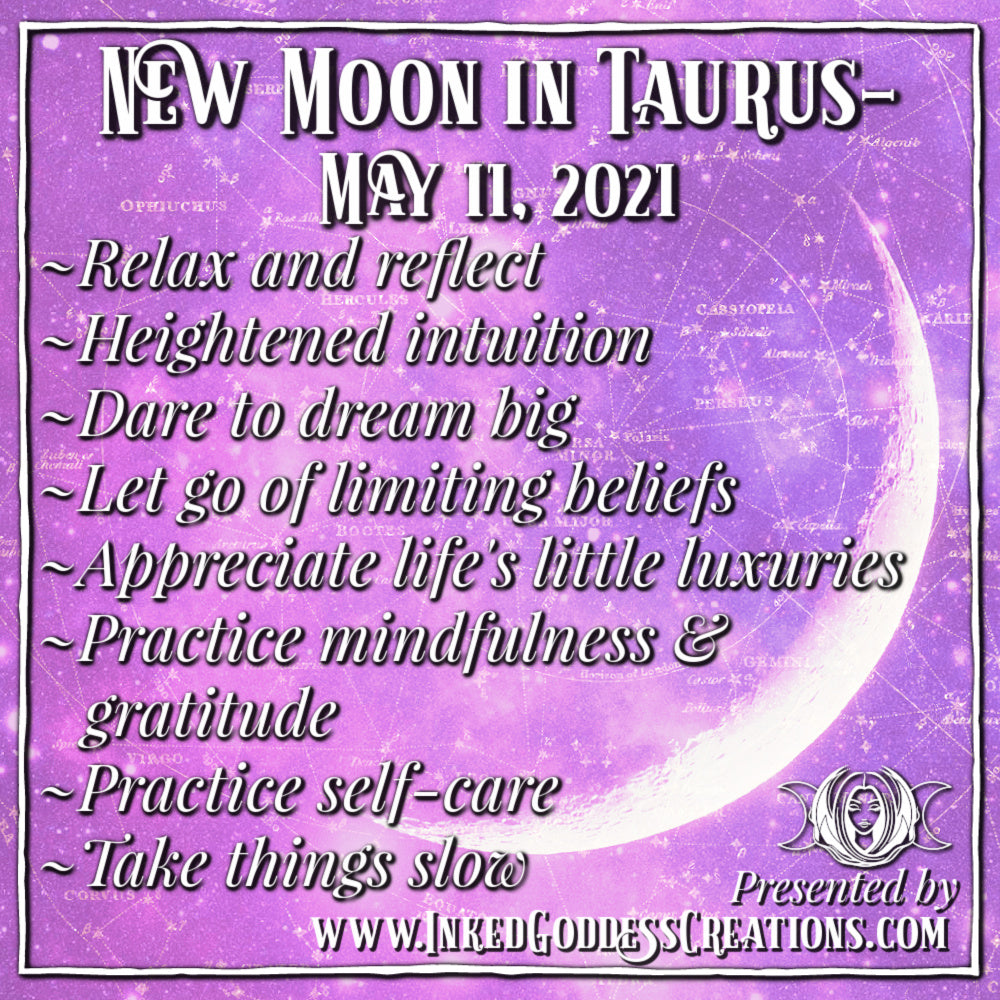 New Moon in Taurus- May 11, 2021
The New Moon in earth sign Taurus arrives on Tuesday, May 11th, offering a chance to relax and reflect. A New Moon is more than just a chance for new beginnings, it's also an opportunity to learn more about yourself. This is the right time for creating stability from within. This Taurus moon is also supported by surrounding planetary aspects, so the changes that take place will likely be more permanent and beneficial for us in the long run.


The 28-day lunar cycle always starts with a cloaked moon darkening the night sky, allowing for a greater sense of the unseen. This energy is strengthened by Neptune being sextile to Moon in Taurus. Heightened intuition and sensitivity can lead you toward gaining valuable insights you can use for personal growth and progress. Neptune also encourages you to let go of limiting beliefs and dare to dream big, as the planets are aligned for you to be confident that you will achieve the goals you set for yourself!

Mercury trine Saturn along with Mars sextile Uranus could bring up serious discussions or important decisions that need to be made. You will want to look at the details and have all the information before committing or taking action. Because of this, new relationships and friendships formed now have a better chance of being stable and long-lasting! These aspect's alignments with one another have a direct and positive effect on this earthy New Moon. Taurus is ruled by Venus, the planet of love, beauty, and wealth. Appreciating life's small luxuries through self-care, healthy foods, and time spent with nature can heal and ground you back into your body. Through taking things slow and being present you can truly be grateful for all the you have, which will naturally attract even more good things to come your way!

- Juliana M. Fanucchi
Author Bio:
Juliana began studying astrology at a young age.  She believes that through understanding how the planets affect us, we can learn how to use their energies to better ourselves and our lives.  Juliana studies other metaphysical subjects including numerology, tarot, gemstones, and practices Nicherin Buddhism.  In 2016, she earned her 200 hour Yoga Teacher Certification. She currently resides in Tucson, Arizona.