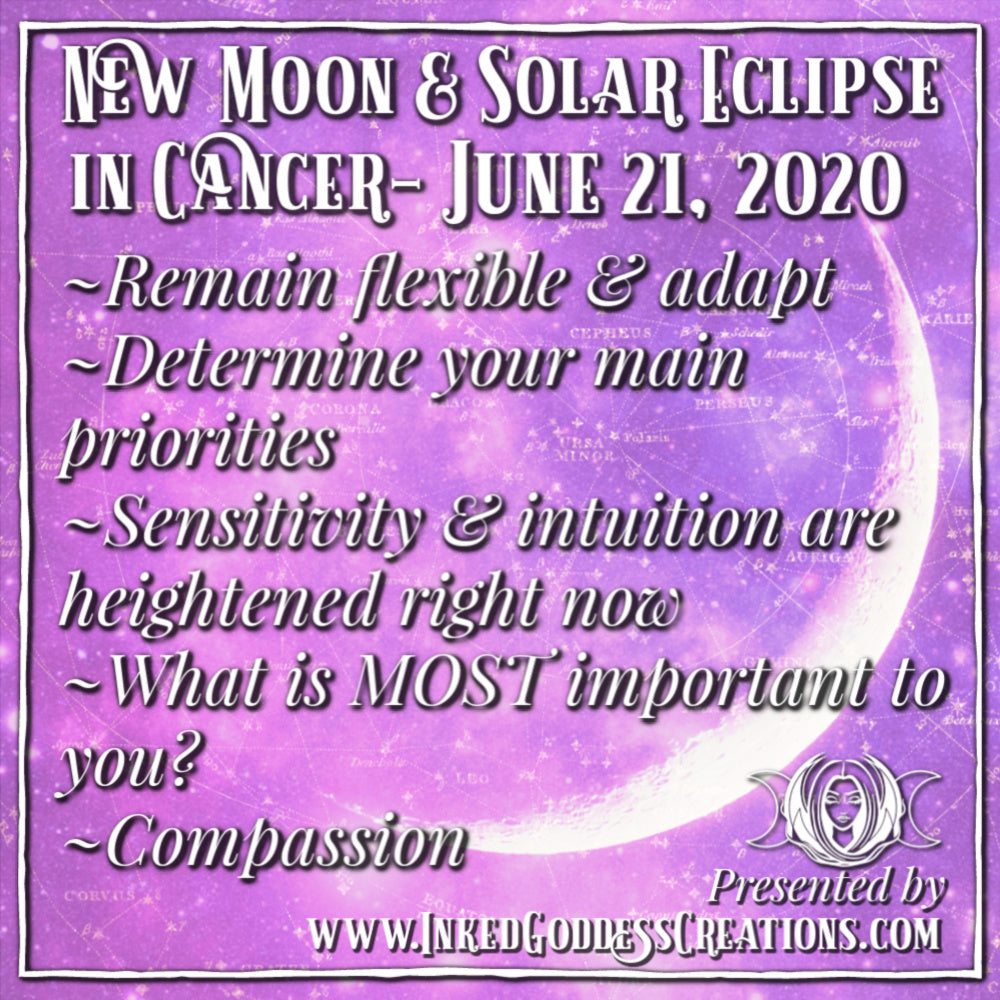 New Moon + Solar Eclipse in Cancer- June 21, 2020
On June 20/21 depending on where you are in the world, the New Moon in Cancer is joined by a partial Solar Eclipse. This is also the time of the Summer Solstice! The theme of the Cancer New Moon is finding a balance between emotional and practical responsibilities. Remaining flexible will help you navigate through this rather unstable phase.


Empathic water sign Cancer is ruled by the moon. She teaches us to be sensitive and intuitive. Combined with a Solar Eclipse, this creates the need to determine what your main priorities are. What have you been procrastinating lately? Your heart may want to continue focusing on what feels good, but this could easily lead to overindulgence. You might have to choose between your duties at work and your personal needs. See what needs your immediate attention, even if it means making a sacrifice in another area of your life.

Be honest with yourself as you realize what's most important to you. Do you need more freedom, or is security the thing that you will benefit most from now? The ability to adapt will help to ease any build-up of tension. Also, the North Node (representing our future Karmic soul growth) is in Gemini, which gives you the intellect to make the wisest decisions. Write down your New Moon aspirations that motivate you to let go and overcome any vulnerabilities you are facing!

Wishing you a compassionate New Moon in Cancer!
~Juliana M. Fanucchi
Author Bio:
Juliana began studying astrology at a young age.  She believes that through understanding how the planets affect us, we can learn how to use their energies to better ourselves and our lives.  Juliana studies other metaphysical subjects including numerology, tarot, gemstones, and practices Nicherin Buddhism.  In 2016, she earned her 200 hour Yoga Teacher Certification. She currently resides in Tucson, Arizona.