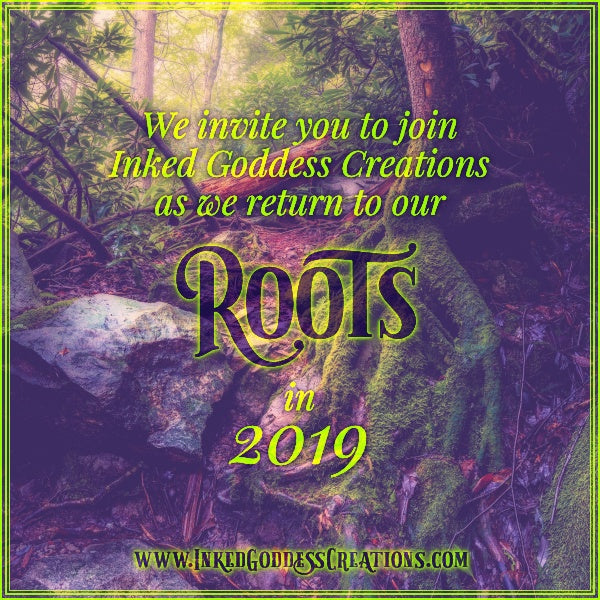 Roots- A Journey for 2019
Roots- the basic cause, source, or origin of something.
Where you've come from. Your core beliefs. The triumphs and pains of your past. The journey you've made this far. 
All of these things make up your Roots. 
In 2019, Inked Goddess Creations is getting back to its Roots. 
The things that make us unique. The inspiration that led to opening the shop in the first place. Who we are at the core.
Our Roots.
Many of us have become disconnected with ourselves. We've forgotten what we've been through; the lessons we've learned; what makes us individuals.
We've forgotten our Roots.
In this day and age, with things moving at the speed of light, we get caught up in things that don't resonate with our highest energy. We lose sight of why we are doing the things we are doing. We compare ourselves to others. We engage in toxic negative self-talk, or base our self-worth on the number of followers or likes we get in a virtual world. We detach from others, from those who love us... from ourselves. 
We here at Inked Goddess Creations are embarking on a journey of rediscovery this year, as we remember where we came from -- and where we're headed. By getting back to our roots, we can anchor ourselves to the beautiful Earth element, and from there grow tall, expand upward toward the heavens, and know we are doing it based on our core beliefs and practices.
For us, Inked Goddess Creations' Roots include:

Magick comes from within. Everyone has it. Everyone can unlock it. We want to help and inspire people to unlock their own inner magick.
We are unlike any other shop on the internet. We are unique, with original ideas that resonate with our customers. Those who answer the call of our energy will be invited into our Inked Goddess Creations customer family with open arms. Nevermind those who copy us, our products, our ideas. Their energy is not ours. Our energy is our own, authentic, love-filled energy, unlike anyone else. 
Magickal tools should not break the bank. You are the magick. You are the flow of positive energy. The tools that resonate with your energy should not cause pain to you or your wallet.
Transparency. What you see here is who we really are. We practice our beliefs and believe what we practice- metaphysically, spiritually, and as a business.
Family. We are a small family business. Family is our everything. We take care of our families, both personal and professional. 
Love. Not only do we love what we do here at Inked Goddess Creations, we love that we are able to do it. We infuse that love into each order that leaves our business. 
Gratitude. We are thankful for each person who supports our small business. We are thankful for the connections we've made, and for the knowledge and love that we are able to spread. We are thankful for the failures just as much as the successes, as they teach us valuable lessons. We are thankful for those who challenged us, as it only made us stronger and more confident in who we are as people, and as a business. 
2019's mission, our motivation, is to get back to our Roots. We will continue to hold these beliefs and practices at the core of our business. We will nurture ourselves, our relationships (personal and professional), our spirituality, and our actions, to resonate with our higher selves, and operate from a place of love.
Will you take this journey with us? Will you make 2019 the year you remember who you are, what you stand for, honor the path behind you, and ground yourself so you can forge ahead as your true, authentic self? Will you get back to your Roots?
I hope to see you all join us! Many blessings to you in 2019!
With love and light,
Morgan 
Owner, Inked Goddess Creations