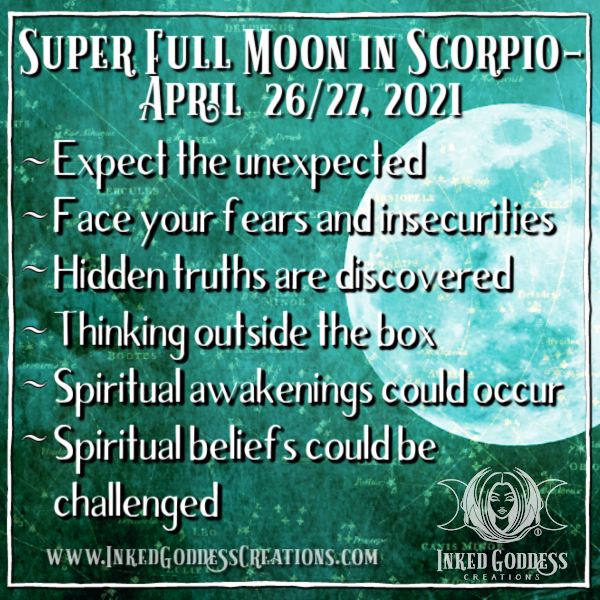 Super Full Moon in Scorpio- April 26/27, 2021
A Super Full Moon in Scorpio arrives on April 26 or 27, depending on your timezone, bringing with it some powerful energy for the next few weeks. A Super Full Moon happens when the Moon is closer to the Earth, which heightens its magnetic affect. The Scorpio Full Moon represents a time of facing a deeper part of yourself. Being in touch with your fears and insecurities reminds you that vulnerability can be seen and used as a strength. This Super Moon asks you to reevaluate what you would like to have more control over in your life, personally as well as materially. 


This Full Moon's strongest opposing planet is Uranus, which is in Earth sign Taurus. Taurus is Scorpio's natural opposite sign, so the duality of this aspect is notable. When Uranus is present, you should expect the unexpected. Being that it is in Taurus, this could mean surprises or changes relating to money, foundation, and anything you consider to be valuable.

Under the Scorpio Full Moon, you may discover some hidden truths about yourself and others that forces you to alter your perspective. Spiritual beliefs may be challenged in order to test whether or not they truly represent your core values and morals. This Moon also forms harmonious alignments with Venus, Mercury, Mars, and Neptune. You can think outside of the box to have an easier time of communicating ideas. This is a good time for creative writing, including writing in order to better connect to your intuition. Spiritual awakenings can help you see what you need to, so that you may evolve into a more authentic way of being. This kind of conscious growth can draw forth inspiring experiences and successful opportunities for you now!
-Juliana M. Fanucchi
Author Bio:
Juliana began studying astrology at a young age.  She believes that through understanding how the planets affect us, we can learn how to use their energies to better ourselves and our lives.  Juliana studies other metaphysical subjects including numerology, tarot, gemstones, and practices Nicherin Buddhism.  In 2016, she earned her 200 hour Yoga Teacher Certification. She currently resides in Tucson, Arizona.