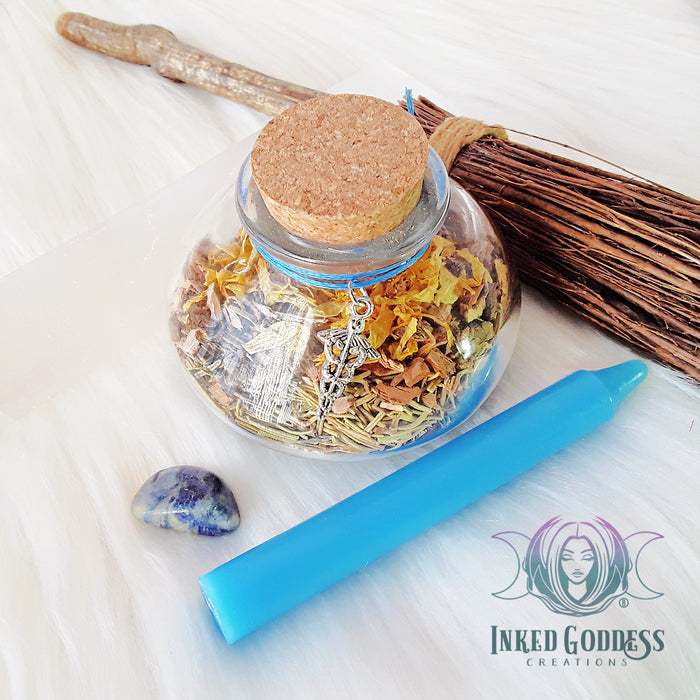 Witch Bottle Kit-Made for Your Intention and Need!
Save

Liquid error (snippets/product-badge line 32): Computation results in '-Infinity'

%
Have a Witch Bottle custom-made for you by Inked Goddess Creations.
Witch Bottles have been used for hundreds of years for spellwork and protection. Today, witches use witch bottles for any number of needs- Protection, Healing, Blessings, etc. A mixture of herbs, resins, gemstones, personal effects and more are added to a jar, and sealed with your intentions.
This listing is for a do-it-yourself Witch Bottle kit. You'll get the glass jar, filled with appropriate herbs and resins, a stone for you to put inside the jar, a charm for the outside of the jar, and a chime candle for you to burn and drip wax over the bottle to seal in your own energies. (Pictured above are just some examples of Witch Bottle Kits we make.)
When ordering a Witch Bottle Kit from us, you have the option of choosing your intention from a list of common ones, or having a specific one made. If your intention needs more direction or information for us to make it, just let us know in the 'Notes' section of your order, and we will create a blend of herbs and resins to suit your purpose. The jars also come with an appropriate colored wax candle and with a charm that also resonates with your intent. If you have ideas on wax color or charms, please let us know. A small piece of paper with a list of the ingredients in your bottle will accompany your kit, so you know it was made specifically for you!
Each bottle is 2.25" high by 3" wide (at its widest point), holds 3.4 oz, and is filled with herbs and resins. Wrapped around the outside of the bottle is a colored cord associated with your intent, with a silver charm dangling from it. Included in the kit is gemstone for you to hold, charge with your energy, and then place into the bottle prior to sealing. It is also recommended to place something personal inside the bottle before you seal it, like a strand of hair or fingernail clippings, to further connect the jar with your energy. Once you have added everything you'd like to the bottle, you light the 4" chime candle and drip candle wax all over the outside of the cork, sealing the bottle with your intentions. Be sure to think positive thoughts as you seal the bottle, and be careful when burning the candle, as the candle wax will be very hot.
Once your bottle has been used in a ritual or spell working of your desire, it is recommended to bury the bottle to help keep its powers strong, and to remove the charm from the front and carry it or wear it to help continue to draw the bottle's energy to you.
Please note- our Witch Bottle Kits do NOT come with specific spells. We give general directions (as stated above), but do not tell you exactly how to work your spell. We feel magick comes from within, so your magick is stronger than anything we can tell you to do. Also, these kits are tools for you to perform your own spell; results are not guaranteed from us.
Other items in the picture are for size reference only and are not included with the purchase.
Metaphysical properties of Inked Goddess Creations products are not guaranteed; I supply the tools, you supply the magick. Products should not be used in place of proper professional advice or treatment. If skin irritation occurs with body products, discontinue use immediately. Never leave a burning candle unattended. Internal use of herbs is not recommended, especially without having first consulted your doctor or a certified herbalist.
In love with this!!
I'm a pretty crafty witch and love a good DIY kit, it feels so personalized and easy to do! I'm a kitchen and divination witch mainly and the transformation bottle my mom gave me as a gift for Christmas last year has finally come into use due to much procrastination on my side. I feel so bonded with the spell and the herbs smelled so good before I sealed the bottle and I turned the charm into an earring to wear until Ifeel the spell is complete! I'll definitely be buying another before the year is out!♡
A lovely little spell jar
The items IGC makes are stunning. Simply stunning. I have a family alter and I've gotten my fair share of cheap looking craft items (buying online has it's down falls at times)
INKED GODDESS CREATIONS IS NOT ONE OF THOSE
They make the beautiful pieces and I love displaying them for all to see.
Special for me Witch Bottle Kit....
This is my first time doing a ritual. The kit came with everything I needed and an informational sheet that explained everything. I was so happy to have them tell me what was in my bottle so I could look up the herbs and see how they would work for my intention. Very happy with how it turned out and is now safe and comfortably tucked under Mother Earth's wing. Thank you so very much appreciated!!!!!
Awesome!
I love the customizability of this kit. I ordered "transformation" for my son who will be transitioning this year. I wanted something witchy to assist him spiritually with the transition. This was the perfect gift for a witchy teen who sometimes needs a little help easing into new situations. It came with a purple candle and a butterfly charm! It could not have been more on the nose.💜🦋
A fun activity
I got this for our family to do together. We are going through a difficult time and together we could use some healing.
Amazing
As soon as I seeled and buried it I started seeing results from the intentions! I am continuing to see the results manifest. I am very pleased and have referred a few friends to purchase one!