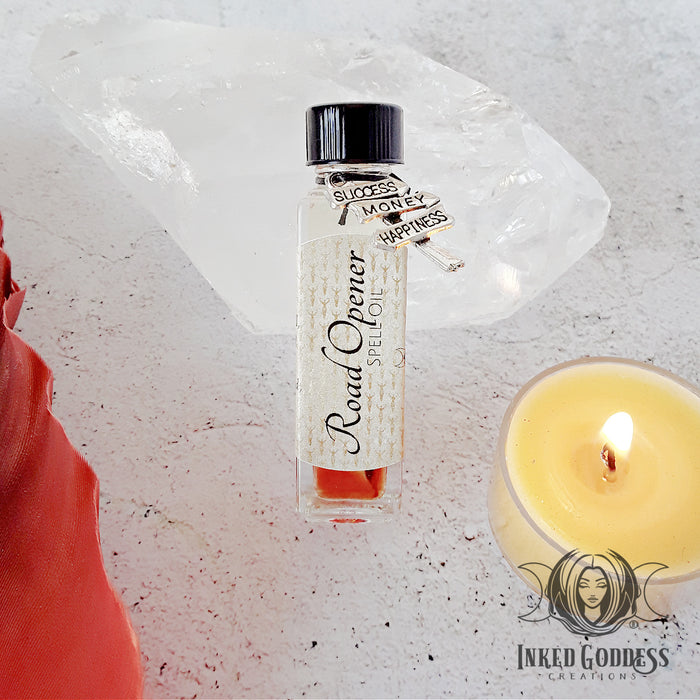 Road Opener Oil to Help Overcome Obstacles
Save

Liquid error (snippets/product-badge line 32): Computation results in '-Infinity'

%
Increase the power and intent of your spells, rituals and magickal workings with various Spell Oils from Inked Goddess Creations.
The Road Opener Oil is a blend of Orange, Dragon's Blood, Sage and Cinnamon oils with Sage and Sandalwood herbs added in. This oil is perfect for helping remove obstacles in your way and opening the path before you. It is also good for anointing candles and wearing during work, job interviews, or anywhere you need a little boost of obstacle-crushing power.
It is blended in a base of Apricot Kernel oil, which is safe to use on skin.
These blends are perfect as a candle dressing, to use in a bath before a spell working or ritual, to anoint objects to help in your spell, or to dot onto the skin to help center before a working. The success charm can be dressed with the oil and worn or carried in a mojo bag to help increase your road opening energy even more!
Spell oils from Inked Goddess Creations now come in a beautiful square 1/3 oz glass vial with black screw-on lid, which measures approximately 2.5" tall by .5" wide.
Other items in the picture are for size reference only and are not included with the purchase.
Metaphysical properties of Inked Goddess Creations products are not guaranteed; I supply the tools, you supply the magick. Products should not be used in place of proper professional advice or treatment. If skin irritation occurs with body products, discontinue use immediately. Never leave a burning candle unattended. Internal use of herbs is not recommended, especially without having first consulted your doctor or a certified herbalist.
My Favorite Scent
The smell of this oil is amazing, its earthy and potent. It enhances my senses and reminds me to think of my spells wanted outcome often. I have noticed a few small obstacles disappear, opening my way to better things.
Review
I wasn't sure at first. Then I got the order. It arrived earlier than expected even with a pandemic going on. Packaging was good. Opened the bottle and I fell in love. Best oil combo I have smelled in a long time. I love it! Totally worth it. Will be doing again.
I love this
Thank you Inked Goddess I had an addiction I was trying to overcome. I order the Road Opener to help me overcome this challenge and it did. As soon as I held the bottle I felt good and able to say no. I put a few dabs on my wrist and I was able to through my addiction in the garbage without looking back. I believe I will wear this everyday from no on.
A Miracle for your Skin Too !!!!!!!!! !
Last night I had a spot on my skin that would not stop itching, and I was tooOooo.... Lazy to get out of bed, to get my peppermint essential oil that I usually use. So I had my lil pouch of oils next to my pillow and decided to intuitively pick one ..... and Road Opener just so happend to call out to me. So I gave this oil a fair chance, ...
this morning when I wok....I noticed No irritation whatsoever !!!!!!, and it had finally! scabed up and was beginning to peel off ! Not trying to gross anyone out here, but..., I just really want to let those who read this to know how Powerful this oil Really Is ! Don't get me wrong... peppermint essential oil is very potent Too ! And can heal you when u are really sick too, .....
but this Oil blew me away .....the scent reminds me of Yule...as the Spicy aroma is so warming and comforting to your soul in these long fall and winter days coming up now.... And it still works for your spell craft as well , this AMAZING oil Road Opener can work with whatever your Good intentions may Be
Love and Light to all and especially to Morgan ! Thank You Again you Talents are truly a Blessing to All !
Blessed Be with much Love and Greatfulness to Morgan and to All!
Unique and Intriguing
This powerful, orangy-spicy scent seems very concentrated! Really lovely and unique. I can't wait to try it!
An oil with a sense of humor
I love this oil. It has a lovely, spicy scent that works well as a perfume and seems to help with metaphysical openings.
However, don't wear it if you're planning on visiting an auto parts shop. The item they say they have several of won't be findable, in any of the local stores, and the one you have ordered from the supplier will disappear.