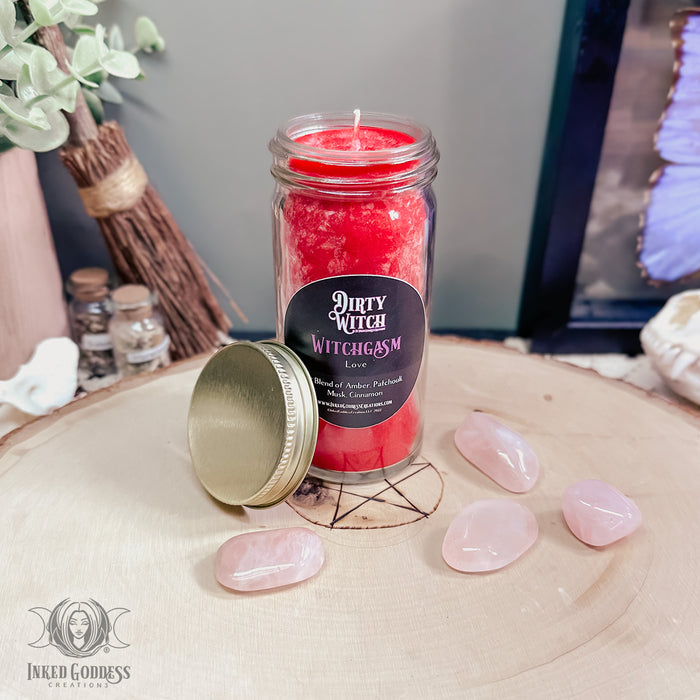 Witchgasm Mini Jar Candle- Dirty Witch- Love Magick
Practice a little love magick with the help of a Witchgasm Dirty Witch candle, exclusive to Inked Goddess Creations.
Every witch needs to let go at times and embrace the dirty witch within; Not naughty, not nice, just down and dirty. That's where the Dirty Witch exclusive line of products from Inked Goddess Creations can help. These amazing products were designed to help witches turn their magick all the f*cking way up! Scents are heightened, ingredients are more exotic, and the result is magick on a level you may have never taken it to before. Dig down to your inner Dirty Witch and let them play!
Our new mini jar candles are a great size for any altar. As the candle burns down, you will need long matches or a long lighter to reach the wick at the bottom. But, when you are done with the candle, you have a jar to store your herbs, gemstones, to turn into a spell jar, or whatever you'd like. Witches love jars! 
This Witchgasm candle helps amplify the energies of love, self-love, lust, passion, and ecstasy. This candle is blended with Patchouli, Amber, Musk, and Cinnamon to open you to the powerful energy of love. This candle creates a sensuous environment, perfect for self-care, date nights, beauty spells and rituals, sex magick, and self-love.
Our mini jar candles measure 4" x 1.75" holding approximately 4 oz of candle wax. Please remember to never leave a burning candle unattended, and only burn this candle when you can observe it for safety reasons.
Each order is for 1 mini jar candle. Other items in the picture are for size reference only.
Other items in the picture are for size reference only and are not included with the purchase.
Metaphysical properties of Inked Goddess Creations products are not guaranteed; I supply the tools, you supply the magick. Products should not be used in place of proper professional advice or treatment. If skin irritation occurs with body products, discontinue use immediately. Never leave a burning candle unattended. Internal use of herbs is not recommended, especially without having first consulted your doctor or a certified herbalist.