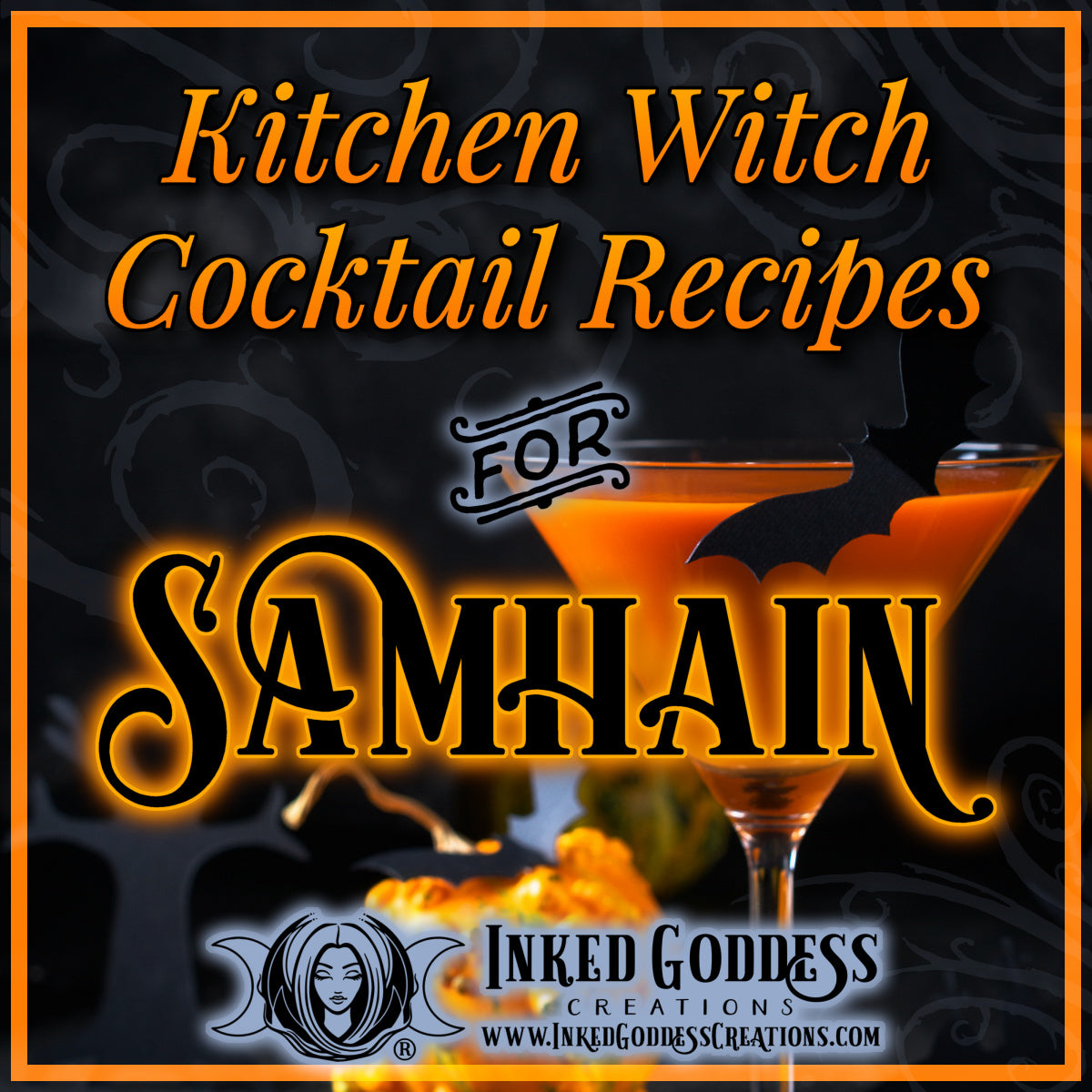 Kitchen Witch Cocktail Recipes for Samhain
You don't need a haunted house to enjoy some "boos." Below are some of our favorite cocktails for Samhain and Halloween, sure to add some festive vibes to the spooky season.
Drunk Witch Cocktail
Created by Shake Drink Repeat
Ingredients:
2 oz. Vodka
2 oz. Blue Curacao
2 oz. Grenadine
Ice
Sprite
Corn Syrup
Dyed Green Sugar
Instructions:
Combine green food coloring and sugar in a bowl (if you don't already have green sugar) and place on a plate.
Dip the glass rim into corn syrup and edge with green sugar to coat rim.
Fill glass with ice, then pour Vodka, Blue Curacao, and Grenadine into glass. Stir to combine.
Top off with Sprite and add fun garnishes.
Enjoy this delicious fruity cocktail!
Bourbon Apple Cider
Created by Rachael White at Set the Table
Ingredients:
4 oz. Apple Cider
2 oz. Bourbon
2 tsp Cinnamon
1 tbsp Sugar
1 Orange Wedge
1 Rosemary Sprig
Instructions:
Combine cinnamon and sugar on plate. Run the orange wedge around the edge of your cocktail glass, then set rim of glass into cinnamon and sugar mixture to coat.
Fill glass with ice, then pour cider and bourbon into glass and stir to combine.
Garnish with orange slices and rosemary sprig.
Black Magic Sangria
Created by Homemade Hooplah
Ingredients:
1 C Blackberries
1 C Black Grapes
2 Plums
2 C Cran-Grape Juice
1/4 C Brandy
1/3 C Raspberry Liqueur
3 ¼ C Red Wine
2 Tbsp Powered Sugar
Instructions:
Cut black grapes in half and slice plums into wedges. In a large pitcher, add fruit, juice, brandy, liqueur, and wine.
Stir ingredients together and taste. If more sweetness is desired, add 1-2 tablespoons of powered sugar.
Refrigerate for 24 hours before serving.
The Hot Pumpkin
Created by Ashlee Marie
Ingredients:
4 C Heavy Whipping Cream
2 C Milk
3/4 C Sugar
15 oz Pumpkin Puree
1 tsp Vanilla extract
1/4 tsp Ground Cinnamon
1/8 tsp Ginger
1/8 tsp Nutmeg
1/16 tsp All Spice
1/16 tsp Ground Cloves
Instructions:
Combine cream, milk, and sugar in a saucepan over medium heat. Stir until sugar dissolves.
Whisk in pumpkin puree until blended, add spices and vanilla.
Simmer for 10-15 minutes.
Add whipped cream if desired and enjoy!
Which one will you try, witches?