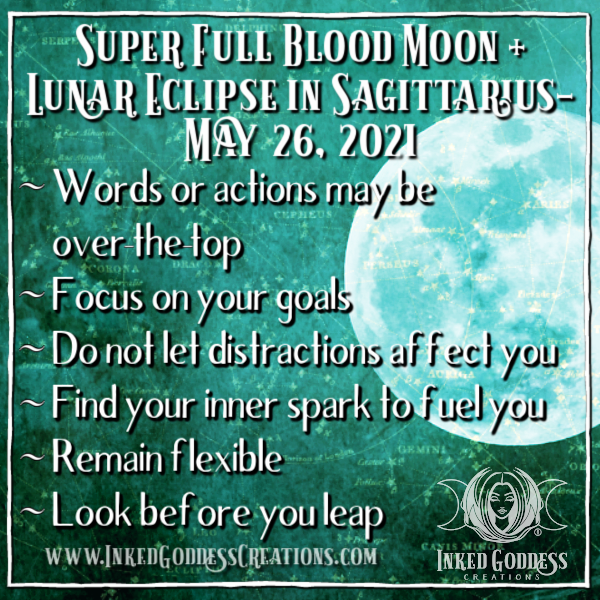 Super Full Blood Moon + Lunar Eclipse in Sagittarius- May 26, 2021
The Super Blood Moon Eclipse is a rare celestial occurrence, and it arrives on May 26. Not only will the Moon seem bigger than usual, but its eclipse status will cause the moon's color to change to a deep shade of red, hence its Blood Moon name! Full Moons are a time of realization and fulfillment. The kind of wisdom you receive now will depend on the culmination of efforts made since the previous New Moon and how you have taken responsibility for your actions. Sagittarius seeks out the truth in order to expand their horizons and remain optimistic about the future. Jupiter is a giant planet and rules Sagittarius, which suggests this Full Moon may make people's words or actions excessive or over-the-top. This Full Moon in Sagittarius is opposite the Sun in Gemini, which can bring a balance to this opposition through logical thinking and communication.  


This Full Moon faces several square aspects, so tensions or obstacles may arise, but as long as you remain flexible, you can learn to look before you leap. Planet Jupiter in Pisces will square both the Gemini Sun and Sagittarius Moon. All three of these signs are mutable signs, meaning they can easily adapt and adjust to an ever-changing environment. The purpose of this Full Moon in Sagittarius is to test your determination and see how focused on your goals you must be to not let distractions throw you off-course.

A lunar eclipse adds intensity to a Full Moon that creates a peak of energy. You may find yourself feeling unafraid of change and craving adventure through travel, new experiences, and spontaneity. Due to the surrounding planetary aspects of the Full Moon in Sagittarius, there is added pressure that limits the immediate freedom you may desire. This can be seen as an opportunity to create your own sense of liberation from within. Acting on that spark of inspiration to do something that makes you feel alive will connect and lead you back to yourself, which could turn out to be the very thing you needed the most!

- Juliana M. Fanucchi
Author Bio:
Juliana began studying astrology at a young age.  She believes that through understanding how the planets affect us, we can learn how to use their energies to better ourselves and our lives.  Juliana studies other metaphysical subjects including numerology, tarot, gemstones, and practices Nicherin Buddhism.  In 2016, she earned her 200 hour Yoga Teacher Certification. She currently resides in Tucson, Arizona.