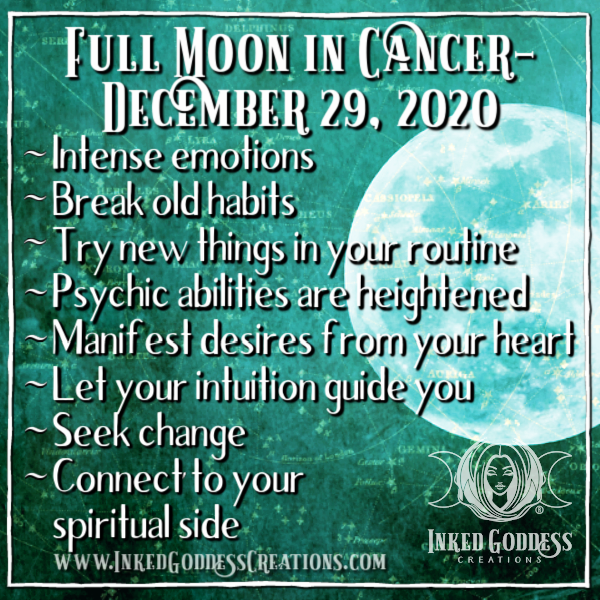 Full Moon in Cancer- December 29, 2020
Full Moon in water sign Cancer arrives just before the New Year to help you prepare to release and let go of what no longer serves you. Cancer is ruled by the moon, so you might feel things more intensely. Full Moon Cancer illuminates what needs your attention and encourages you to get in touch with deeper emotions.

Opposite this Full Moon is the sun in earth sign Capricorn. You must learn to know when to use your head and when to use your heart when making decisions. Cancer Full Moon is positively aspected the planet Uranus. This is a good time to break old habits and try something new in your routine. Through actively seeking change, (this also applies to internal changes) you will invite exciting new developments that supports your personal freedom!

Water sign Cancer appreciates home, family, and close relationships. Creating nurturing, harmonious energy will help you connect with your spiritual side. Your psychic abilities are more powerful now, so you can receive clear guidance on where to focus your intentions. Your manifestations are, in a sense, charged under a Full Moon which means you can easily attract your wishes at a faster pace. Focus on manifesting your desires from the heart, and allow your intuition to light up and guide you on your path into the New Year.

Wishing you a healing Full Moon in Cancer!
-Juliana M. Fanucchi
Author Bio:
Juliana began studying astrology at a young age.  She believes that through understanding how the planets affect us, we can learn how to use their energies to better ourselves and our lives.  Juliana studies other metaphysical subjects including numerology, tarot, gemstones, and practices Nicherin Buddhism.  In 2016, she earned her 200 hour Yoga Teacher Certification. She currently resides in Tucson, Arizona.