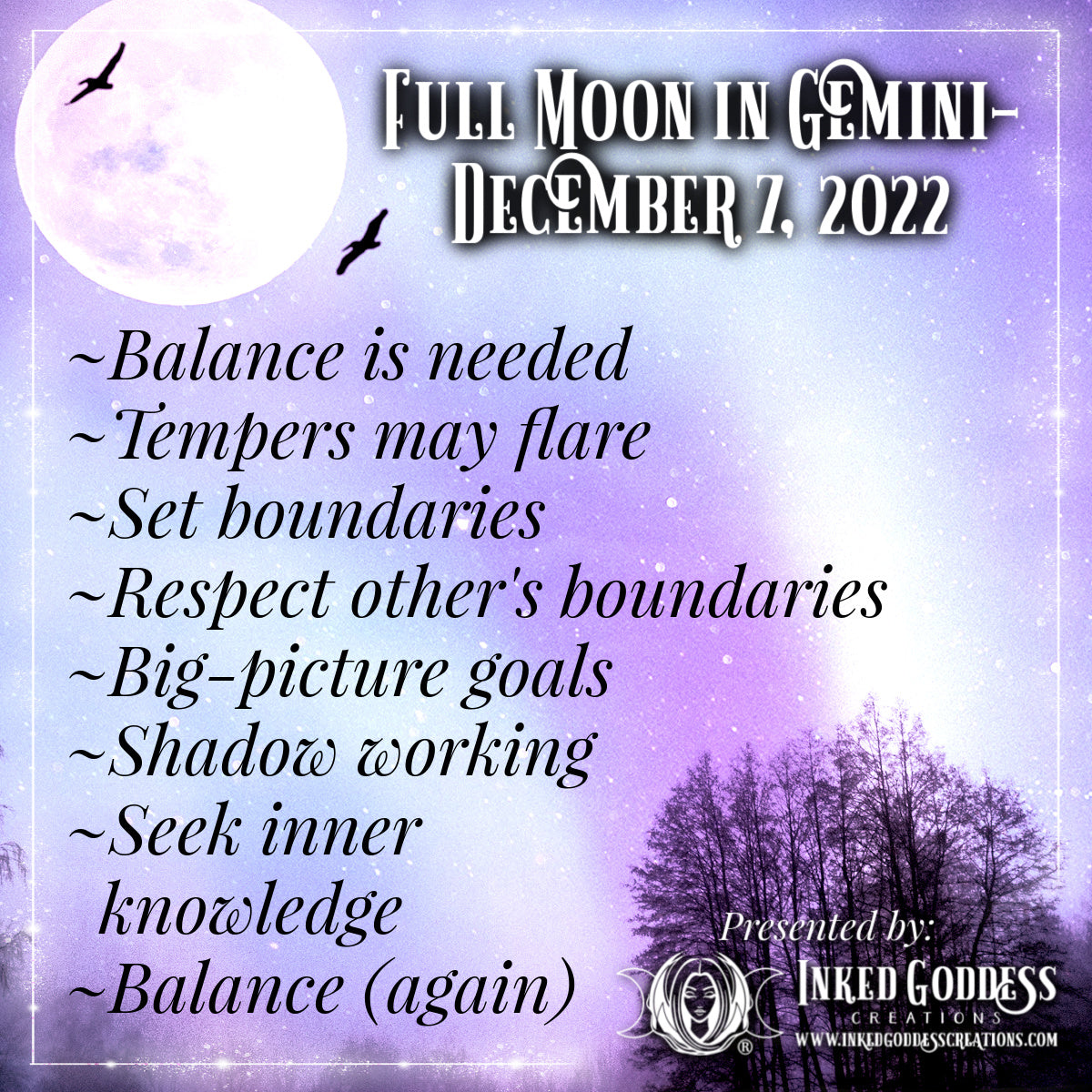 Full Moon in Gemini- December 7, 2022
The Full Moon in Gemini arrives on December 7th, ushering in the last Full Moon energy of 2022. The keyword for this Full Moon is balance, which will definitely be needed this month. 
This Gemini Full Moon's alignment with the planet Mars, which is currently in retrograde, means that fiery energy will be abundant. You can use this energy effectively to add motivation to your goals for the new year. Be prepared, though, for tempers to flare, words to be taken out of context, and drama to rear its ugly little head. Remember that you do have boundaries that need to be respected, but respecting boundaries goes both ways. Try to balance yourself when the energy becomes heightened by finding healthy outlets for your anger, frustration, and rage. Don't push the emotion away; feel it so you can connect with its source, just make sure you won't regret things that are said or done when you are expressing your emotions. 
As this Full Moon is in the air sign of Gemini, shadow working is another great practice you can do to work with this energy. The Full Moon will illuminate things in your life that are both going well and not going well. It's up to you to see everything and use this knowledge to make decisions in your life of what to pursue and what to let go of. This Full Moon's energy lends heavily to that, as the last Full Moon of 2023. It's time to start looking ahead towards next year, set goals, and once the Waning Moon phase hits a few days after the Full Moon, release any bad habits or obstacles that are keeping you from achieving your dreams. 
Blessed Full Moon,
Morgan