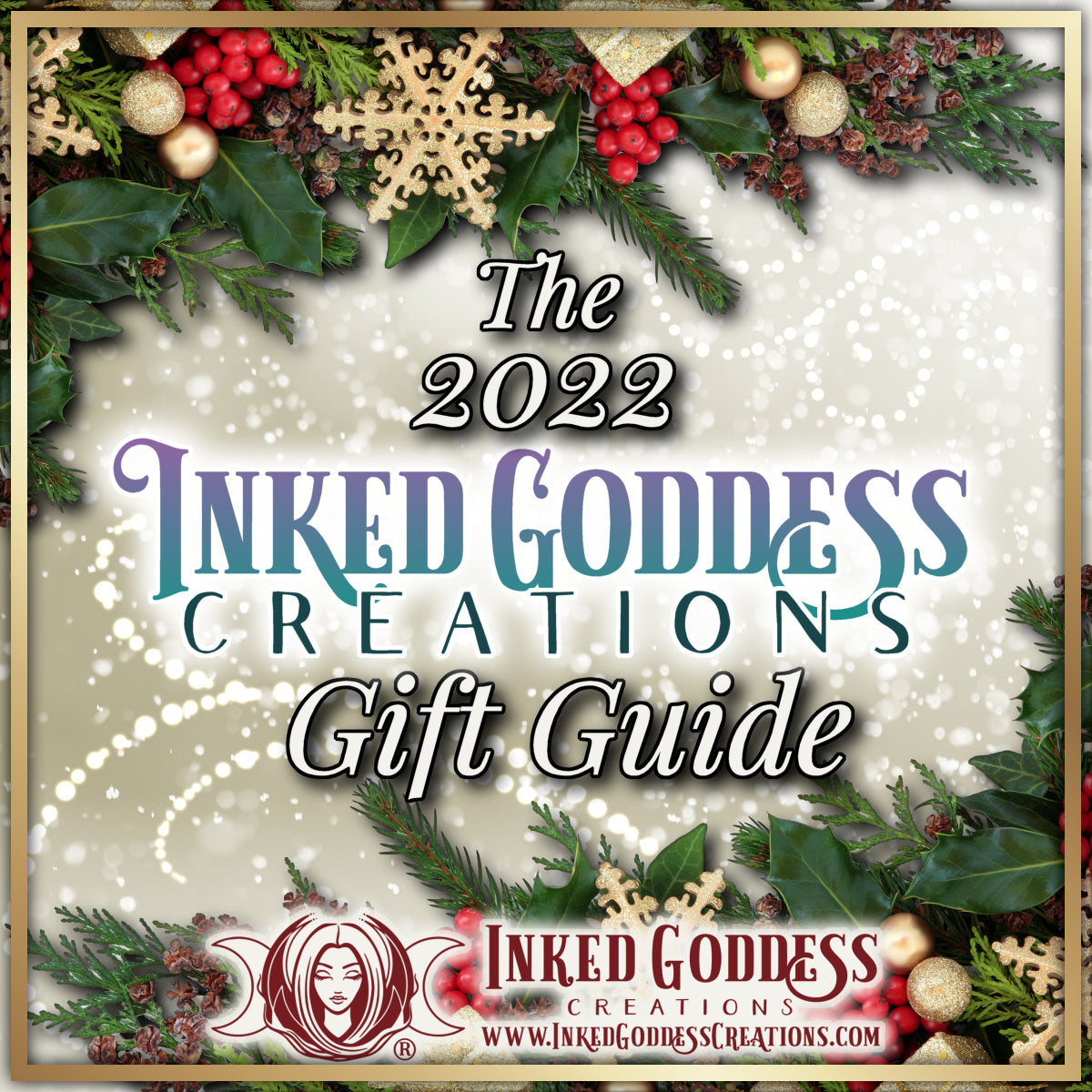 The 2022 Inked Goddess Creations Gift Guide
It's officially holiday shopping time, and if you or your loved one is a magickal practitioner, there's no doubt you're looking for some ideas for gifts this time of year. Whether you're shopping for an experienced witch, a new practitioner, or anyone in between, these gifts are sure to delight. We've even broken them down into easy categories to simplify your search.
Gifts For Any Witch
Inked Goddess Creations Box
Gift a single box or a subscription (monthly, every three months, or every six months) for a monthly infusion of magickal supplies based on monthly themes. The items are made for witches, by witches, with exclusive products you can't find anywhere else. This top-rated subscription box has been a favorite among the witchy community for six years now!
Inked Spirit Coven
An Inked Spirit Coven membership is the perfect gift for the witch who wants to deepen their practice or would rather have an experience than a physical gift. In Inked Spirit, members receive monthly group live lessons and workshops, downloadable Book of Shadows pages for each lesson, designed by IGC Owner, Morgan Moss, a members only Facebook group, and so much more.
The Eclectic Witch Deck
This informational deck of cards is researched and designed by Inked Goddess Creations with various magickal knowledge. This is the initial starter deck, with 20 cards, including:
8 Moon Phase Cards
5 Western Element Cards
Divine Feminine & Divine Masculine Cards
2 Color Magick Cards
Mindfulness
Morgan's Personal Morning Elemental Affirmation
Bell Altar Tool
We also have multiple expansion sets and include new cards in each IGC Box and Inked Crystals subscription. Think of them as witchy baseball cards!
For the Kitchen Witch

Kitchen Witch Magickal Culinary Blends
Stir some magick into your recipes with our Kitchen Witch Magickal Culinary Blends. Each herbal blend has been specially formulated with herbs to suit each intent. The herbs are ground down to almost a powder, and then hand-mixed into the salt or organic sugar (depending on the blend). Once the blends are mixed together and packaged, they are then charged on Morgan's altar for an extra positive magickal energy. Morgan has been using these blends in her personal Kitchen Witchery cooking for years now, and wanted to make them available to customers!
There are now 6 blends to choose from: Love, Healing, Money, Protection, Grounding, and Psychic.
Kitchen Magick Bamboo Mini Cutting Board
Chop your fruit, veggies, and herbs while infusing them with magick and intent with the Kitchen Magick Bamboo Mini Cutting Board, exclusive to Inked Goddess Creations.
Using meals as a basis for spellwork, kitchen witches prepare dishes with focus and intent as a form of ritual and spellwork. Cutting boards are often used to chop ingredients for recipes, making this a great tool to add a little magick to your everyday meal prep!
Kitchen Witch Apron
Practice kitchen magick in style with an exclusive Kitchen Witch Apron. This apron was designed personally by Morgan, for our sold-out Kitchen Witch 2 IGC Box. Donning your Kitchen Witch Apron before you start cooking or baking helps you shift your energy to a state of making magick happen.
It has various magickal symbols including the words Kitchen Witch printed on the front of the apron. It is adjustable to be one size fits most.
For the Crystal Witch
Crystal Witch Altar Cloth for Crystal Magick
Crystal witchcraft is the practice of working with gemstones, crystals, and energy to aid in magick, rituals, and healing layouts. Tapping into crystal magick can be as simple as studying different types of crystals and their meanings, properties, and colors, creating crystal layouts or grids, or adorning your sacred space with crystal witch decor such as our Crystal Witch Altar Cloth! It depicts the energy of a crystal witch surrounded by her favorite tool for magick- gemstones!
Witches Love Crystals Velvet Drawstring Bag
Help your witch store or carry their gemstones in style with a Witches Love Crystals Velvet Drawstring Bag. These black velvet bags come with Witches Love Crystals on the outside stamped in white. They are the perfect size for carrying around some crystals and gemstones, measuring 3.75" tall by 3" wide. These are designed by Morgan, owner of Inked Goddess Creations, and exclusive to us!
Each order is for 1 empty bag, but we have plenty of crystals and gemstones in our shop to help you fill it!
Clear Quartz Mini Crystal Ball for Enhanced Scrying
Amplify your psychic powers for your divination practice with a Clear Quartz Mini Crystal Ball. Clear Quartz is known as the "master healer" and will amplify energy and thought, as well as the effect of other crystals. Clear Quartz also enhances psychic abilities while aiding concentration and unlocking memory.
Crystal balls are a common divination tool used for scrying. To use a crystal ball, you gaze upon its surface, opening yourself to divine messages that your guides wish to bring you. It is said that these messages will appear in the form of words or pictures within the patterns of the crystal ball.
For the Hedgewitch
Antique Skeleton Key
Unlock metaphysical doors and open your path of opportunity with the help of an Antique Skeleton Key from Inked Goddess Creations. Hang an antique key above the main entrance to your home for protection of all inside, and to block negative energy from entering.
Healing Herb Set
The Healing Herb Set from Inked Goddess Creations is the perfect set of herbs to help increase the healing and health energies in your life.
Healing Herb Set includes:
Echinacea
Peppermint
White Willow
Calendula
St. John's Wort
Eucalyptus
Each 2"x3" bag contains approximately .17-.25 oz of herb.
Each bag is labeled with the herb name and contains the metaphysical properties of the herb, making it easy to create incense or spell powders for your needed intent. These herbs can also be added to bath teas, soaps, lotions and more!
For the Cosmic Witch
Celestial Witch Sticker Set for Cosmic Magick
Add some cosmic magick to your vision board, book of shadows, or date planner with the Celestial Witch Sticker Set, exclusive to Inked Goddess Creations.
Celestial witchcraft is the practice of working with the stars, planets, and cosmic influences to craft magick and ritual. Using this Celestial Witch Sticker Set will help you visualize your lunar and cosmic magick!
Planetary Magick Guide & Workbook for Connecting with the Planets
Discover how to incorporate planetary magick into your practice with the Planetary Magick Guide & Workbook from Inked Goddess Creations.
Created by Morgan, owner of Inked Goddess Creations, the Planetary Magick Guide & Workbook contains 36 workable pages to help you dive deeper into working with planetary magick, both with the planets themselves and planets when they are in retrograde.
Gemstone Solar System Bracelet
Add some planetary magick to your wardrobe with our Gemstone Solar System Bracelets. They're made of polished, sphere-shaped Blue Goldstone beads that represent the galaxy, with small gemstone beads to represent each planet. They are perfect for any witch's wardrobe and double as a way to carry the magickal benefits of crystals and the planets with you while on the go.
For the Busy Witch
Gemstone Chip Pen
Charge your words with gemstone energy with a Gemstone Chip Pen from Inked Goddess Creations. Our silver pens are filled with gemstone chips in the top, so whatever you are writing is charged with gemstone energy. They are great for adding a burst of magickal energy to your everyday life or your spells!
We have 3 possible gemstones to choose from, all having a common theme of prosperity and abundance for success of your spells:
Aventurine- prosperity, heart-healing, creativity, calming, compassion
Peridot- good health, peace, detox, love, luck, confidence, charm, prosperity
Tiger's Eye- strength, protection, prosperity, success
2023 Busy Witch Monthly Date Planner
The Busy Witch Monthly Date Planner is back, and we have made some changes this year thanks to feedback from our customers!
The 2023 Busy Witch Monthly Date Planner contains 80 workable pages to help you record your goals for each month, reflect on how your month went, and give you resources to help you practice busy witch magick (like moon phases, sabbat dates, etc.). This planner is the perfect size to put into your purse, backpack, or laptop bag to keep with you on the go. With motivational quotes and cute graphics included, this planner is sure to brighten any busy witch's year!
Witch, Get Your Shit Done! Notepad
Our Witch, Get Your Shit Done! Notepad is the perfect addition to any witchy desk. There are areas of the notepad for you to record your schedule or to-do list, your daily magickal intentions, your daily accomplishments, your mood, and any other notes you'd like to record for the day. You can keep the used pages in your book of shadows or journal if you want to document your mood or activity level based on moon phase, time of year, etc. Each notepad contains 50 sheets.