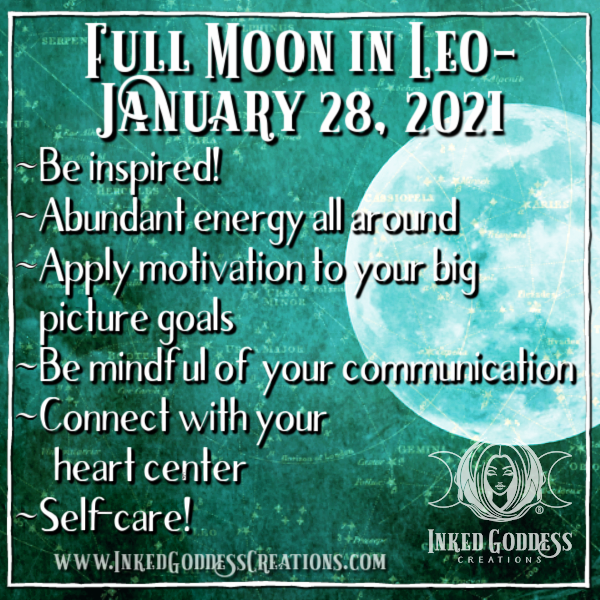 Full Moon in Leo- January 28, 2021
The first Full Moon of 2021 arrives January 28th in fire sign Leo. This zodiac sign is bright, philosophical, and creative. You can use this time to be inspired to make your dreams a reality! Leo is ruled by the sun, which is aligned with planet Jupiter, adding abundance and expanding the energetic nature of this Full Moon.


The moon is square Mars, intensifying your desire to go after what you want. However, this could lead to impatience and stubbornness. Use this extra dose of motivation to gain clarity on goals from a larger and long-term perspective. Leo is known to be prideful, but deep down they are quite sensitive, so you should be mindful of your words and how you speak to others.

Loyalty and compassion are very important to Leo, and this Full Moon allows you to see who in your life shares these traits. Remember that Full Moons show us what or who needs to be let go of before we can experience renewal (but be sure to do the actual letting go during the Waning Moon phase following the Full Moon). Connecting with the Heart Chakra will serve as a guide for how you wish to express yourself. What changes need to be made in order to become the most honest, authentic version of yourself?  Heart-opening yoga poses, meditating on the heart center, or any other form of self-care can allow you to create a meaningful connection with this Full Moon.
-Juliana M. Fanucchi
Author Bio:
Juliana began studying astrology at a young age.  She believes that through understanding how the planets affect us, we can learn how to use their energies to better ourselves and our lives.  Juliana studies other metaphysical subjects including numerology, tarot, gemstones, and practices Nicherin Buddhism.  In 2016, she earned her 200 hour Yoga Teacher Certification. She currently resides in Tucson, Arizona. 


Wishing you a heartfelt Full Moon in Leo!