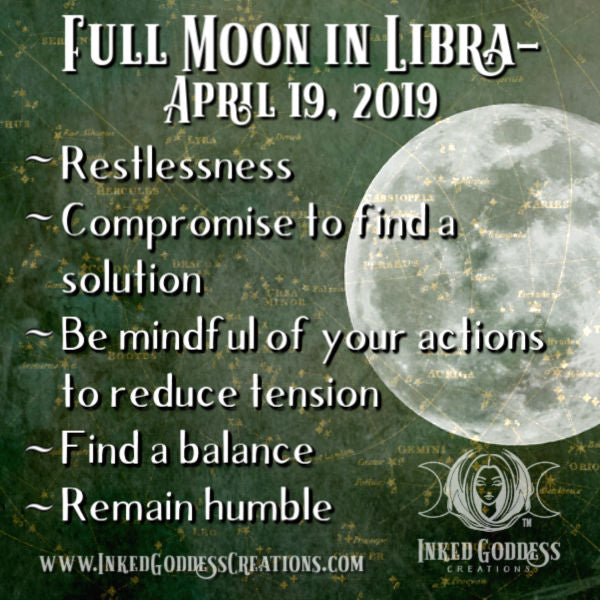 Full Moon in Libra- April 19, 2019
On April 19th, a rare second full moon in Libra carries more intensity with it than the previous one. This full moon is also affected by several other planets. Probably the most notable aspect is the moon opposite unpredictable Uranus, which causes sudden events and changes. You may feel restless and a desire for freedom. You should try not to let any confusion affect you, and remember the intentions you set at the last new moon, as results could now show up in unexpected ways! 
Libra is skilled at dealing with relationships, since seeing both sides of a situation is one of Libra's strengths. This may be more difficult to achieve now, as this full moon will cause more tension than usual with others. Underlying family issues could come to the surface and cause an imbalance. Even if there are no issues with your friends, partners, or family, you may find yourself seeking emotional comfort through overindulgence. If you can be mindful and find ways to improve upon your self image, you can stay more centered and balanced.
Sometimes when dealing with issues relationship issues, your pride can get in the way of finding a real solution. Be willing to compromise. Using your emotional intelligence will help to achieve goals set from the April 5th new moon in Aries. Remain humble and be determined to overcome anything in your way!
Wishing you a healing Full Moon in Libra.
-Juliana M. Fanucchi 
Author Bio:
Juliana uses astrology to understand how the planets can affect us on a mental, emotional, and spiritual level. Raised as a Nichiren Buddhist, she studies other metaphysical interests like numerology, music, tarot, and gemstones. She received her 200 hour yoga certification in December 2016. She currently lives in Tucson, Arizona. You can follow her on Instagram- instagram.com/whooliana.