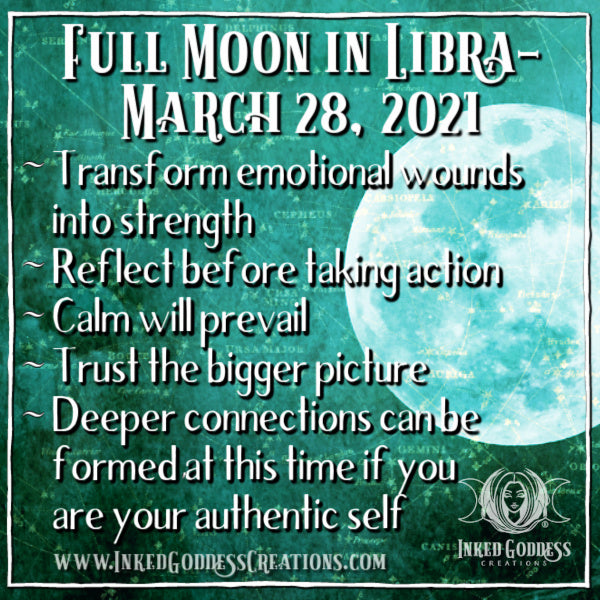 Full Moon in Libra- March 28, 2021
The air sign Libra Full Moon brings harmony, healing and protection. At this time the moon is aligned with Venus, the Sun, and Chiron. The Full Moon in Libra can show you how you can transform your emotional wounds into a source of strength. The wisdom you have gained from past experiences serves as a guide for how to best move forward.


Libra is ruled by Venus, the planet of love, beauty, and finances. Being aware of how you relate to these areas in life helps you identify what most needs to be improved upon. The day of the Full Moon represents a completion point in which you can review and reflect before taking any action. Libra Full Moon also suggests you weigh the pros and cons prior to making final decisions or commitments. 

Mars, Saturn, and the Full Moon align and form a perfect triangle, which is referred to as a Grand Trine aspect. A Grand Trine is considered to be a good omen as it is known to bring a calming effect that helps you to trust the process and go with the flow. This aspect also eases tension caused by the Moon in Libra opposite the Sun in Aries. You can find a balance between the need for independence and your wish for closeness in one-on-one relationships. Deeper connections can be formed under this Full Moon as long as you choose to be your authentic self and also respect others as they are. Libra Full Moon brings opportunities to turn fear into faith and find peace in the chaos.
-Juliana M. Fanucchi
Author Bio:
Juliana began studying astrology at a young age.  She believes that through understanding how the planets affect us, we can learn how to use their energies to better ourselves and our lives.  Juliana studies other metaphysical subjects including numerology, tarot, gemstones, and practices Nicherin Buddhism.  In 2016, she earned her 200 hour Yoga Teacher Certification. She currently resides in Tucson, Arizona.