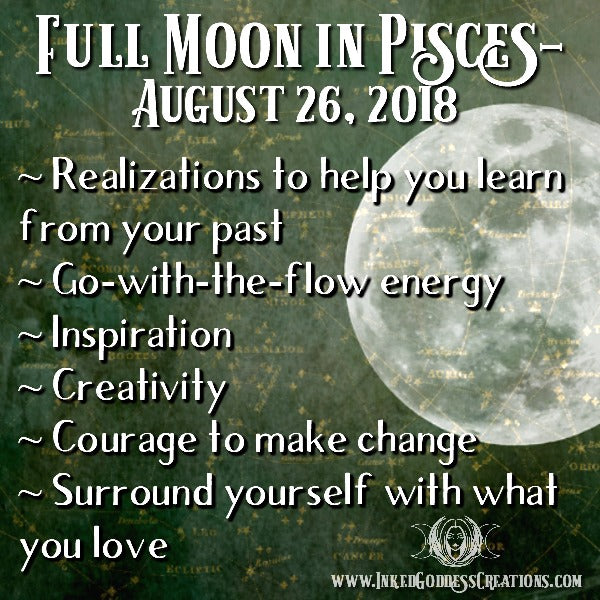 Full Moon in Pisces- August 26, 2018
On August 26th, the moon becomes full in water sign Pisces. Our sensitivity and intuition is heightened, bringing awareness to the relationships with ourselves and others. On the following day, Mars moves out of retrograde, giving us the courage to make meaningful changes! 
If you've been waiting for answers to questions about your future, now is the time to listen up! This full moon brings important realizations to help us learn and grow from the past. Become aware of what you truly desire, and let go of what is standing in the way of your happiness!
This past summer might have left you feeling more sluggish than usual due to so many planets being in retrograde. Luckily, Pisces energy flow helps us recover and begin to feel lighter and more relaxed. This full moon may inspire you to find creative projects to work on such as redecorating your home, coming up with great ideas at your job, or even just starting a new book. Whatever it is you feel called to do, make sure it's something that really is good for you! Surround yourself with what you love and appreciate. Wishing you a positive and healing full moon in Pisces! 
Be well! - Juliana M. Fanucchi 

Author Bio:
Juliana uses astrology to understand how the planets can affect us on a mental, emotional, and spiritual level. Raised as a Nichiren Buddhist, she studies other metaphysical interests like numerology, music, tarot, and gemstones. She received her 200 hour yoga certification in December 2016. She currently lives in Tucson, Arizona. You can follow her on Instagram- instagram.com/whooliana.