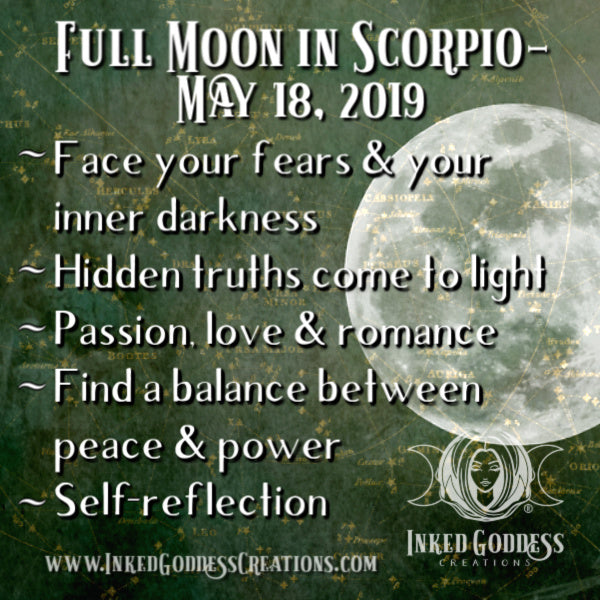 Full Moon in Scorpio- May 18, 2019
On May 18th, the Full Moon in water sign Scorpio brings the chance for you to make emotional adjustments. Scorpio deals with spiritual transformation, death, and rebirth. This energy could cause you to more feel vulnerable and sensitive, and you should pay attention to the things that are affecting you. Full Moons tend to shine a light on your subconscious thoughts and emotions. With this Scorpio Full Moon, you should face your fears, your weaknesses, your inner darkness. It might seem daunting, but through self-reflection you can better understand your authentic self!
Opposite the moon now is the sun in earth sign Taurus. Both of these signs are fixed, meaning they have a hard time being flexible. There's an energy of push and pull between Taurus and Scorpio- the seen and unseen reality. If you've been feeling burdened with secrets or hidden information, allow it to come to the surface now. Especially under a Scorpio moon, hidden truths are bound to be revealed.
Scorpio is a very passionate sign. Combined with Taurus's sensuality, feelings of love and romance are heightened! The desire for real relationships will lead us to seek for deeper, more meaningful connections. My advice is to be patient with yourself and others. Find the balance between peace and power.
Wishing you a powerful Full Moon in Scorpio!
-Juliana M. Fanucchi 
Author Bio:
Juliana uses astrology to understand how the planets can affect us on a mental, emotional, and spiritual level. Raised as a Nichiren Buddhist, she studies other metaphysical interests like numerology, music, tarot, and gemstones. She received her 200 hour yoga certification in December 2016. She currently lives in Tucson, Arizona. You can follow her on Instagram- instagram.com/whooliana.