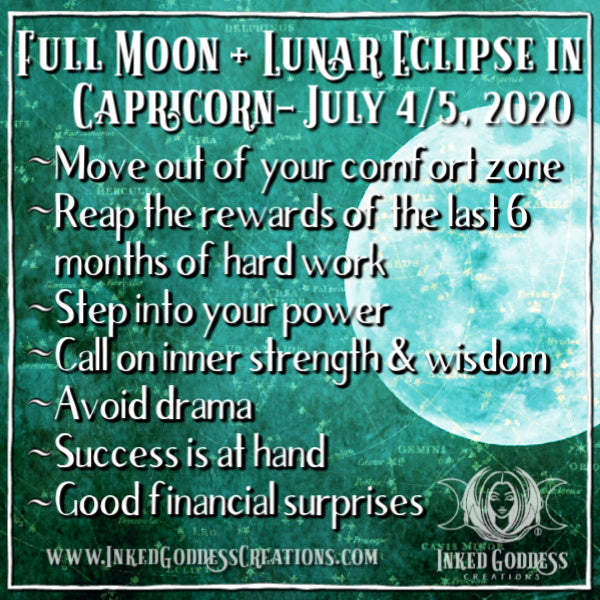 Full Moon + Lunar Eclipse in Capricorn- July 4/5, 2020
The Lunar Eclipse and Full Moon in Capricorn arrives July 4/5 (depending on your time zone- exact time is 12:44 Eastern). This is a great time to move out of your comfort zone. Success will be created through new job opportunities and relationships that encourage you to move forward in more ways than one! Earth sign Capricorn is ambitious and appreciates being valued for their efforts. Step into your power and reap the rewards from all of your hard work these past six months! 


A Lunar Eclipse is different than a Solar Eclipse because it allows you to call on our inner strength and wisdom. You will want to avoid drama and instead focus on the task at hand. Any discussions you have with friends or family will have a better chance of being engaging and civilized. Philosophical topics could be a popular theme in conversations with others!

This Full Moon is trine Uranus in Taurus. Uranus is the planet of unexpected events. Being that it's in earth sign Taurus, surprises may arise that serve to improve your financial stability. You should remember to use your resources wisely now and be conservative in order to maintain a balance. This is a fruitful Full Moon to look forward to, so make the most of the new developments in your environment now!

Wishing you a fortunate Full Moon + Lunar Eclipse in Capricorn! 
~Juliana M. Fanucchi
Author Bio:
Juliana began studying astrology at a young age.  She believes that through understanding how the planets affect us, we can learn how to use their energies to better ourselves and our lives.  Juliana studies other metaphysical subjects including numerology, tarot, gemstones, and practices Nicherin Buddhism.  In 2016, she earned her 200 hour Yoga Teacher Certification. She currently resides in Tucson, Arizona.