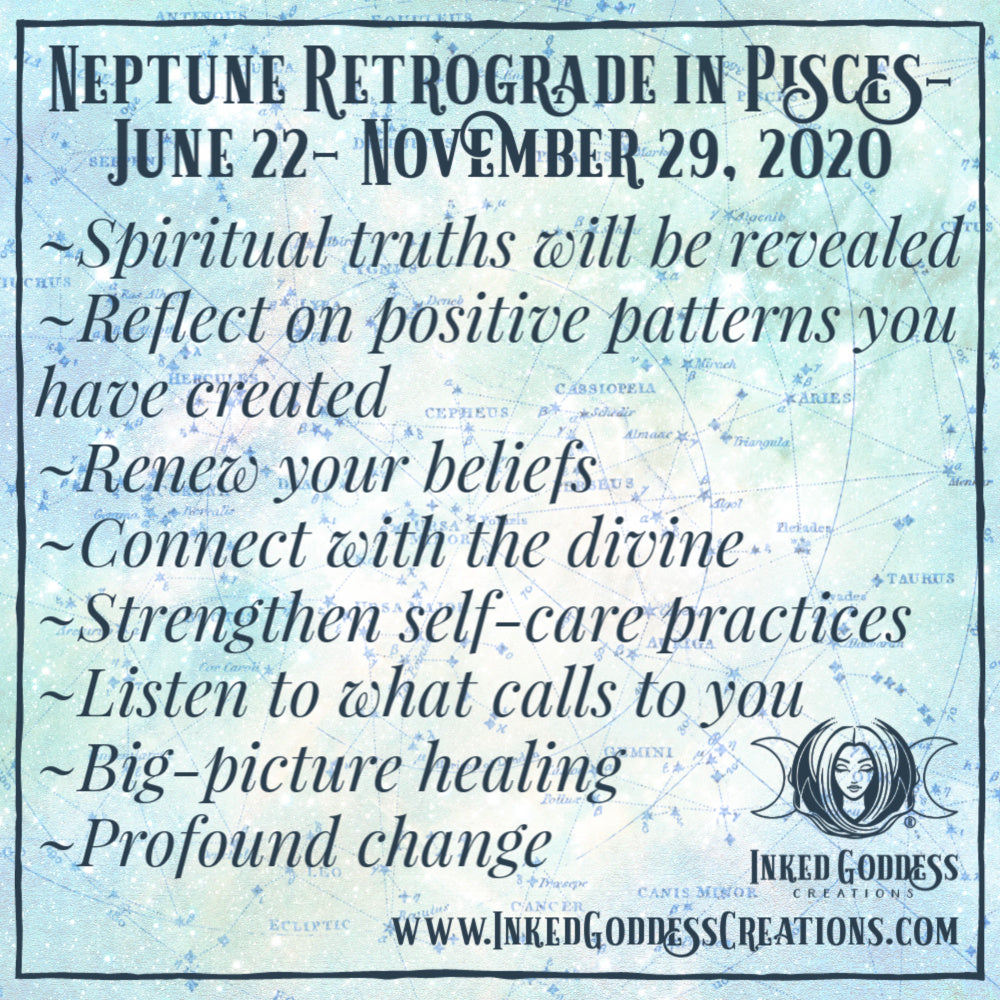 Neptune Retrograde- June 22-November 29, 2020
Neptune began its retrograde phase in the water sign of Pisces on June 22nd and will last until November 29, 2020. When a planet is in retrograde, it appears to be moving backward in its orbit. Neptune is the planet of higher consciousness, which could affect your dreams and wishes. This energy is strengthened because Pisces is actually ruled by the planet Neptune. While Neptune is in retrograde, it will give you more clarity and help you to accept your spiritual truths! 


Neptune Retrograde creates a more stable vibration compared to other planets in retrograde. You have the next five months to collectively reflect on patterns you have created. Beliefs that guided you through your obstacles can be renewed with new insights, which will better serve your current conditions.  Perhaps you are letting go of old habits and perceptions. You will no longer wish to return to the way things were, as there will be opportunities for profound changes.

Neptune Retrograde triggers the subconscious beliefs that we as a whole planet have unknowingly subscribed to. Become more aware and in tune with the universe through your own inner connection with the divine. Listen to what calls out to your heart. Begin working with new gemstones, herbs, and other natural tools to strengthen your self-care practices! Meditate with a mantra based in unconditional love to create an environment of peace for yourself and for others. Be a part of the greater healing that is more crucial now than ever! 
~Juliana M. Fanucchi
Author Bio:
Juliana began studying astrology at a young age.  She believes that through understanding how the planets affect us, we can learn how to use their energies to better ourselves and our lives.  Juliana studies other metaphysical subjects including numerology, tarot, gemstones, and practices Nicherin Buddhism.  In 2016, she earned her 200 hour Yoga Teacher Certification. She currently resides in Tucson, Arizona.