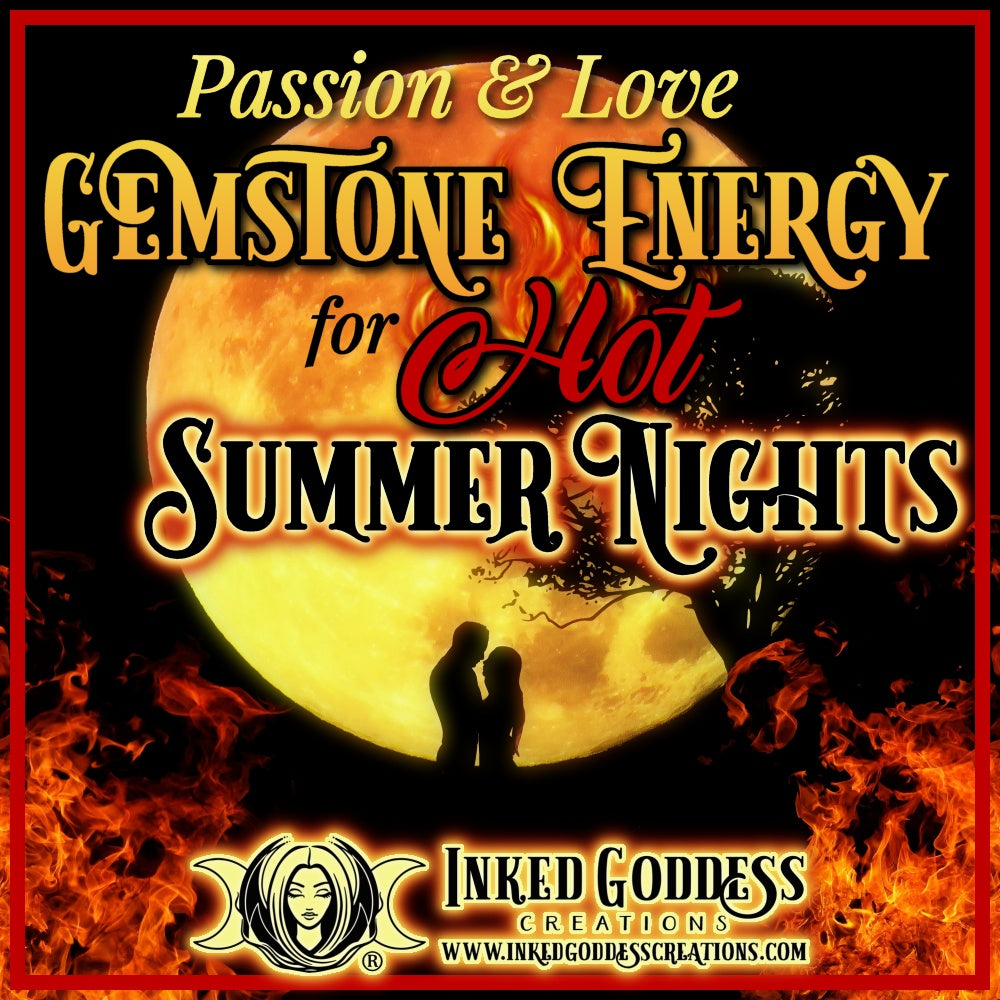 Passion & Love Gemstone Energy for Hot Summer Nights
Sensuality, passion, and love. Who doesn't want a little bit of that in their lives? As temperatures rise, we've decided to curate a list of some of our favorite, passion-inspiring gemstones that you'll want in your collection. Each brings a little more of that passionate, loving energy to your magickal home.
Fire Labradorite
Few gemstones are as captivating as vibrant blue Labradorite. Fire Labradorite features an additional hot flash of yellow or orange, giving the stone the illusion of captured fire. Labradorite helps to promote your inner magick and can help you tap into your natural abilities. It's also an excellent stone for stimulating your intuition and protecting you from the world's negativity. Use Fire Labradorite on your altar to stimulate the throat chakra and bring clarity to your communication with loved ones and self-expression. 
Ruby
Ruby resonates with the summer zodiac signs in the Northern Hemisphere: Cancer, Leo, and Virgo, and can instill courage in the bearer. If you're looking to add some confidence vibes to your life this summer, try wearing or carrying a Ruby with you. This stone can also help with love spells and relationship issues, especially when used alongside Rose Quartz! The passionate combination might even bring more steaminess to your love life. 
Fire Quartz
Also known as Hematoid Quartz, Fire Quartz contains iron vapor deposits, which causes its yellow to pink and red coloration. Use this gemstone to balance the lower chakras, and if you're a Scorpio, you definitely want this stone in your collection. Fire Quartz is known as a stress-relieving stone and may help keep your emotions balanced. It's also fantastic for transmuting negative energy into positive, love-filled vibes. 
Garnet
Do you want to add more sensuality to your life? Be sure to include Garnet in your collection. The stone is most commonly found with red hues, but can come in a range of colors that include pink, green, yellow, orange, brown, and black. This stone can help cleanse and realign the chakras and inspires not only sensuality but also love and devotion. It resonates with the root and heart chakras to align the physical and emotional aspects of love, positivity, and inspiration. 
Flower Agate
Flower Agate also resonates with the root and heart chakras and may prove to bring a calming vibe to your altar. This stone is excellent for creating your own reality, learning to live in the present, and finding self-love and inner peace. Its name comes from the white "flowers" inside the pink stone, making it a lovely, feminine addition to your collection. Not surprisingly, it aligns with the planet Venus and the earth element.
We're a bit in love with each of these gemstones. Remember, no matter which stone you find to be your favorite, YOU bring the magick.
Sources:
www.crystalvaults.com
www.thecrystalcouncil.com
www.themagickalearth.com
www.charmsoflight.com