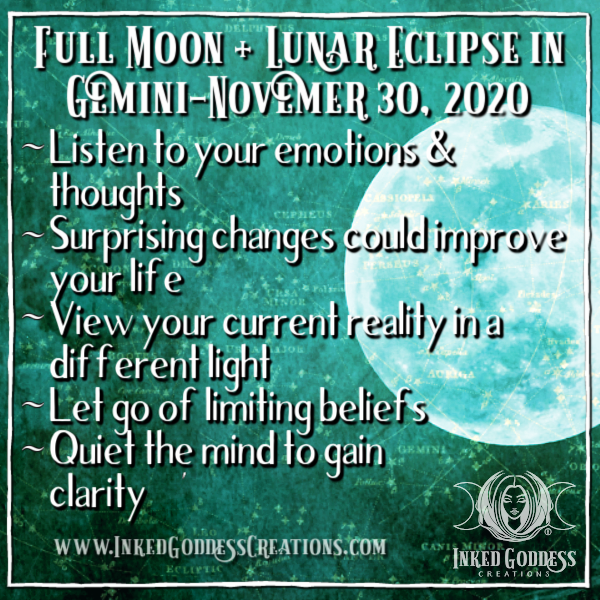 Full Moon + Lunar Eclipse in Gemini- November 30, 2020
November 30th brings the last Lunar Eclipse of 2020! Full Moon in air sign Gemini is ruled by Mercury, the messenger planet. The insights you receive now are logical and informative. Opposite the Full Moon in Gemini is the Sun in Sagittarius, reminding you to listen to your emotions as well as your thoughts. This creates a balance between your head and your heart. 
Planet Uranus is conjunct the planet Venus, which means unexpected events in your interactions with loved ones as well as possibly with your finances. However, since this is a Lunar Eclipse and not a Solar Eclipse, these changes will most likely be experienced internally rather than externally. You may decide to make an important change that, although surprising, can improve your life for the better.  
A Full Moon helps you rejuvenate new patterns of behavior and view your current reality in a different light. Your subconscious thoughts are brought to the surface, and your intuition is strengthened. This Lunar Eclipse in Gemini lets you become aware and let go of any negative thinking patterns or limiting beliefs. Practice relaxation through reading, writing, calming music or meditation to quiet the mind and receive the clarity you seek.  
Wishing you an insightful Full Moon in Gemini! 
-Juliana M. Fanucchi
Author Bio:
Juliana began studying astrology at a young age.  She believes that through understanding how the planets affect us, we can learn how to use their energies to better ourselves and our lives.  Juliana studies other metaphysical subjects including numerology, tarot, gemstones, and practices Nicherin Buddhism.  In 2016, she earned her 200 hour Yoga Teacher Certification. She currently resides in Tucson, Arizona.