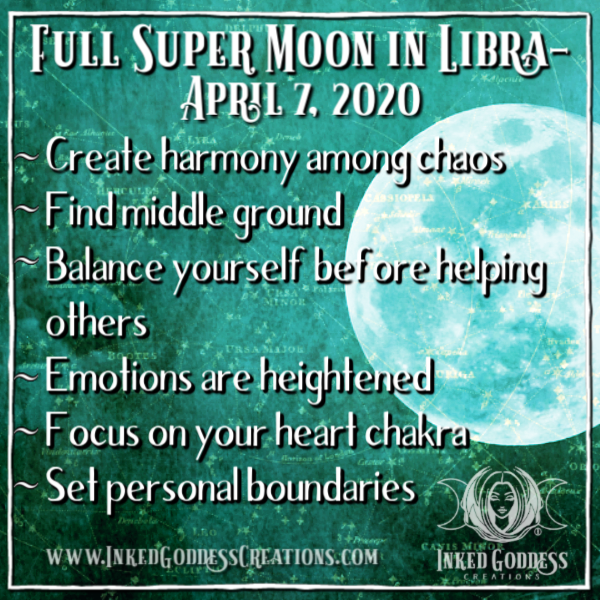 Full Super Moon in Libra- April 7, 2020
This Full Moon in Libra is a time of creating harmony among the chaos. Libra's tact and fairness help to diffuse any tense situation by understanding both sides. If you encounter an obstacle, you should use this example of avoiding extremes and instead, try to find a middle way. 


The Full Moon in Libra is the second and largest Super Moon of this year! Psychic, emotional, and physical energies are extra heightened during this time. Libra deals with one-on-one partnerships of all kinds. Now you can choose to reflect on your current relationships and notice if you are putting others first before yourself, which loving Libra tends to do. Be sure to keep yourself balanced before attempting to fix something or someone else!

When your environment is unstable or unpredictable, it can cause indecision and anxiety. Do what you can for others without sacrificing your own needs. You can learn to be assertive as well as respectful when setting personal boundaries. To connect with this Full Moon energy, meditating with Rose Quartz gemstone will help balance the Heart Chakra, also associated with Libra.

Wishing you a balanced Full Moon in Libra ♎️!

-Juliana M. Fanucchi
Author Bio:
Juliana began studying astrology at a young age.  She believes that through understanding how the planets affect us, we can learn how to use their energies to better ourselves and our lives.  Juliana studies other metaphysical subjects including numerology, tarot, gemstones, and practices Nicherin Buddhism.  In 2016, she earned her 200 hour Yoga Teacher Certification. She currently resides in Tucson, Arizona.