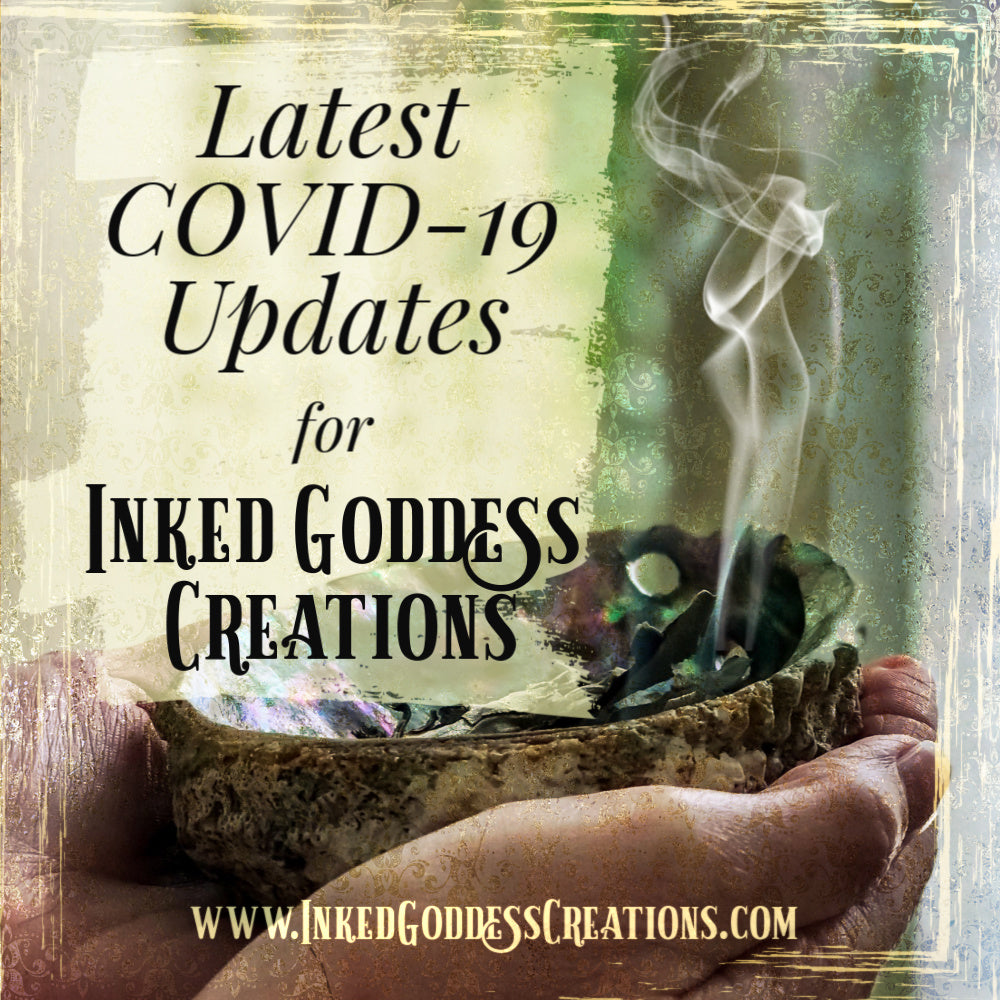 Latest COVID-19 Updates for Inked Goddess Creations
Last updated: May 17, 2020
As the world starts to open back up and figure out what the new "normal" is, we are continuing to make, package, and ship orders. We do ship all of our orders via USPS, which for us, is working as normal. We understand this is not the case for many other cities and towns, as the post office is being overburdened with packages in many areas, causing shipping delays. Please understand that we can not see any different information than what your tracking number shows. It is because of this that we are currently not answering emails about orders that have shipped but the tracking number shows them stuck somewhere in transit. It will be up to you to contact the post office yourself and inquire about where your package is. You can also have a tracer put out on it. But, please understand that packages everywhere are just being delayed right now due to the pandemic. 
We do run a 5-7 *business day* turnaround on orders. Business days do not include weekends or holidays. Please do not email us within this 5-7 business day window asking when your order will ship. It is currently just Morgan, Colin, and their 2 teenage kids making, processing, packing, and shipping ALL orders from Inked Goddess Creations right now, along with doing ALL of the other tasks it takes to run a small business. We are experiencing shipping delays ourselves on supplies we need for the shop. If something happens and we are not able to get your order out within the 5-7 business day turnaround, we will reach out and email you to let you know that. Also, the "Celtic Altar" themed Inked Goddess Creations Box ships on June 3rd. Please do not send us emails asking when that will ship, either. That information was present when you ordered.
Thank you for your continued support during this time, and for your patience as the world tries to recover from this pandemic. 
April 12, 2020
We are still open and continuing to make, package, and ship orders. Due to the overwhelming support and volume of orders we are currently experiencing, and the fact that it is just Morgan and Colin fulfilling the orders, we are back to our normal 5-7 *business day* turnaround on orders right now, which does not include weekends. Please be patient with us as we fulfill orders, and with the post office as they deliver orders. Many First Class packages are not being scanned throughout the shipment process, as only Priority Mail packages have to be scanned at each stop. So, if you ordered from us and your tracking number is not being updated, chances are it will just show up as delivered a few days later without scans between Tucson and you! If your package is marked 'Delivered' and is not, here are the instructions on what to do.
We are aware that we are out of stock on most candles right now. Our candlemaker is currently working on a huge order for us, which will be done within the next week or so.
We are completely sold out of April's "Witches Love Crystals" themed Inked
Goddess Creations Box. Orders are now being taken for May's "Visionary Magick" themed box, which is scheduled to ship May 4th. We are donating $2 of the sale of each May's box to Feeding America's Coronavirus Response Fund, to help feed families across America who have been impacted by the coronavirus right now. 
As of April 1st, the USPS has suspended shipping to certain international countries. For a complete list, please visit the USPS page concerning international mail.
April 1, 2020
On March 31st, the governor of Arizona issued a stay home order for our state. Fortunately, the stay home order has a few exceptions, including, "... employment if as a sole proprietor or family-owned business, work is conducted in a separate office space from your home and the business is not open to serve the public." As Inked Goddess Creations is a family-owned business whose office is not open to the public, we will continue to take orders, make items, and ship orders until we are notified otherwise by a new state or federal mandate. 
Our April "Witches Love Crystals" Inked Goddess Creations Box shipped early this month, on March 31st. We wanted our customers to have a little light during this dark time!
Our April shop update is still scheduled to go live early on Sunday, April 5th.
We want to thank everyone who continues to place orders with us. We are doing our best to get orders out within 2-4 days so it can be to you quickly! 
March 25, 2020
Blessings to everyone right now! Our world is in such an uncertain state that changes each day. This post is to update you on runnings here at Inked Goddess Creations so you know about your orders, upcoming product releases, and how we are handling things here. Most current updates will always be at the top of the article!! 
As of right now, we still have a green light here in Tucson, AZ for going to work as normal. As a precaution, we made the decision for our company to just have store owners Morgan and Colin run the day-to-day operations at Inked Goddess Creations, including making, processing, packing, and shipping orders, and advised our friends and employees to stay at home during this time. We are still shipping orders out a minimum of twice a week, on Tuesdays and Fridays (though recently we have been doing orders daily), and have USPS pickups made to minimize trips to the post office. We (Morgan, Colin, and our teenagers) have practiced self-quarantine for almost 2 weeks now, making the home and office our only 2 outings on a regular basis, and our teenagers only work with us when we are making items for the upcoming shipment of our Inked Goddess Creations Box. Our shop and home were both cleaned, organized, and disinfected at the beginning of this, and each day that we work at the office, I start the day out wiping down surfaces, door handles, etc with disinfectant wipes, and end the day with sweeping and mopping the floors. Our family of 4 are the only people that have access to the interior of the office. We also have mandatory handwashing at least once an hour. We feel that we are 100% complying with the federal precautions put into place to stop the spread of the virus. 
On a metaphysical level, I have essential oils of Sage, Rosemary, Eucalyptus, Thyme, Lemon, Orange, and Lavender burning in our living quarters around the clock for healing, cleansing, calming, and happy energy.  I hold sacred space each day to send out healing, loving, protective energy to the world. 
At this time, we are fully planning on our "Witches Love Crystals" Inked Goddess Creations Box to ship on Friday, April 3rd, as normal. 
At this time, we are fully planning to launch new items and Tucson Gem Show specimens on Sunday, April 5th, as normal. 
Please understand that this is how we are running things under the current state of Arizona and the US, which could change at any time. We are a small business, so your support is definitely appreciated throughout all of this, as businesses like ours will be hit the hardest if things get worse. With that being said, please know that our status could change at any time, so if you are thinking of placing an order with us right now, I need you to ask yourself a question before you do so- 

If the shop's status changes after you have made your purchase but before we can ship it, will you be able to be patient until the status changes and we can ship, or will you request a refund for your order?
If you ask yourself that question and the answer is that you will request a refund from us, knowing the state of Arizona and the US are not in our control, then I ask you to please refrain from placing your order during these uncertain times. 
If you are a current customer of Inked Goddess Creations, we do have a Facebook group available for you to join for FREE, where we hold live virtual sacred space once a week, keep the positive energy flowing, and have amazing witchy discussions. Through the group, you can also sign up to be a part of our FREE text messaging system to receive positive inspirations throughout the week. Please be sure to answer the 3 questions required to join the group, so we can verify that you are a customer. 
I will also be holding Facebook Lives each week (as of right now, Fridays at 3pm PST) on our Facebook Page, with discussion and learning topics to keep the magick flowing in your life during these times. 
Please, please, please be safe out there. Please practice the precautions set by the CDC to help flatten the curve and stop the spread of this virus, and try to remain positive during this time. This is something that has not happened in our world to this extent in over 100 years, and you are living through it right now! Think of the stories you can tell your grandkids in the future about the great Quarantine of 2020. Concentrate on getting to know yourself again during this time, and we can all emerge on the other side awake, aware, and motivated to be our authentic selves! 
Many blessings to you all,
Morgan
Owner, Inked Goddess Creations