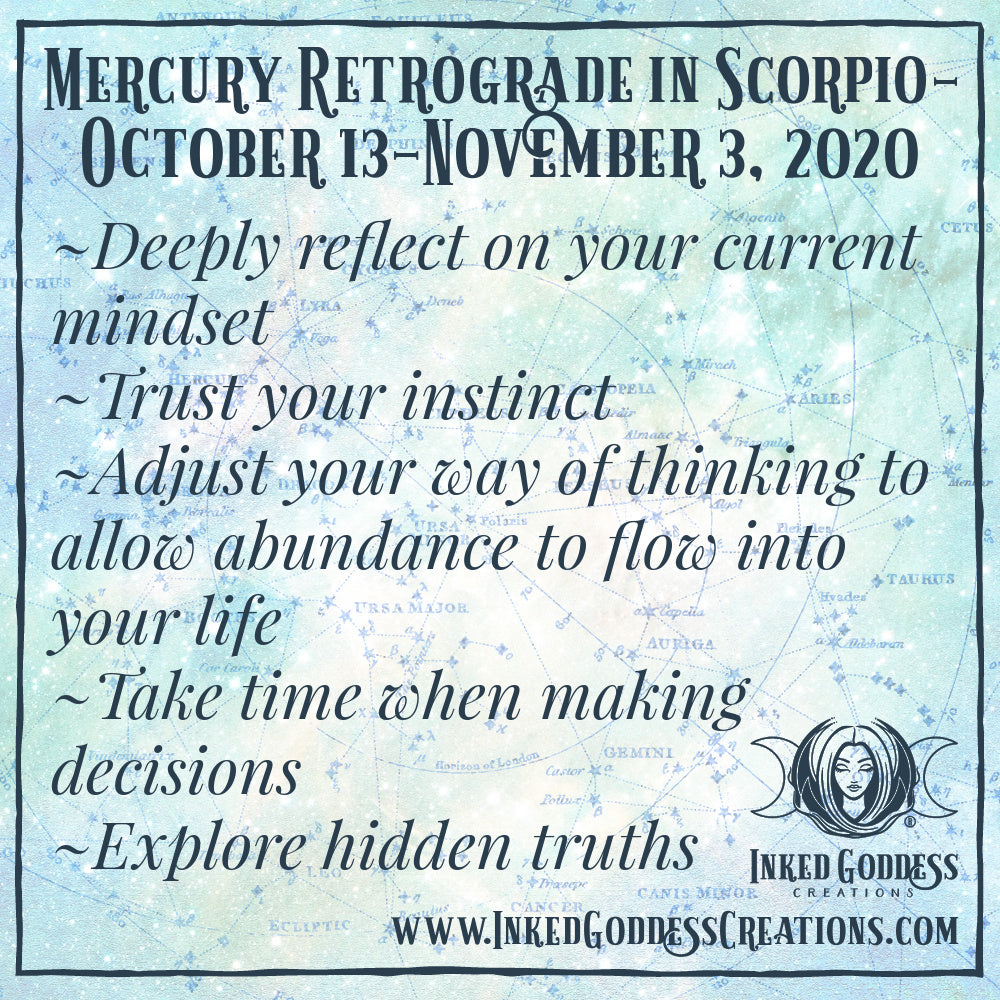 Mercury Retrograde in Scorpio- October 13- November 3, 2020
Mercury began its retrograde phase in water sign Scorpio from October 13th and ends on November 3rd. Mercury is the planet of communication, technology, and travel. Being that it's in retrograde (looks like it is moving backwards in its orbit), you could experience delays or mishaps in these areas of your life.


When Mercury or any other planet turns retrograde, it doesn't mean that it will only affect you in negative ways. Look at this Mercury Retrograde as a time to deeply reflect on your current mindset. Strong Scorpio energy influences you to make decisions based on your emotions and dare to trust your instinct over logic.

For the next 3 weeks, you will explore the hidden truths found beneath the surface in your thinking, relationships, as well as your finances. Ask yourself how you can adjust your way of thinking to allow abundance to flow into your life. Scorpio prefers to have a small circle of people kept closest to them. However, it may be more difficult to know who to trust under this particular Mercury Retrograde. Take your time when making decisions, whether business or personal, in order to avoid confusion. By the end of this period, you are sure to have a clearer understanding of what and who is truly important to you from now on!
-Juliana M. Fanucchi
Author Bio:
Juliana began studying astrology at a young age.  She believes that through understanding how the planets affect us, we can learn how to use their energies to better ourselves and our lives.  Juliana studies other metaphysical subjects including numerology, tarot, gemstones, and practices Nicherin Buddhism.  In 2016, she earned her 200 hour Yoga Teacher Certification. She currently resides in Tucson, Arizona.