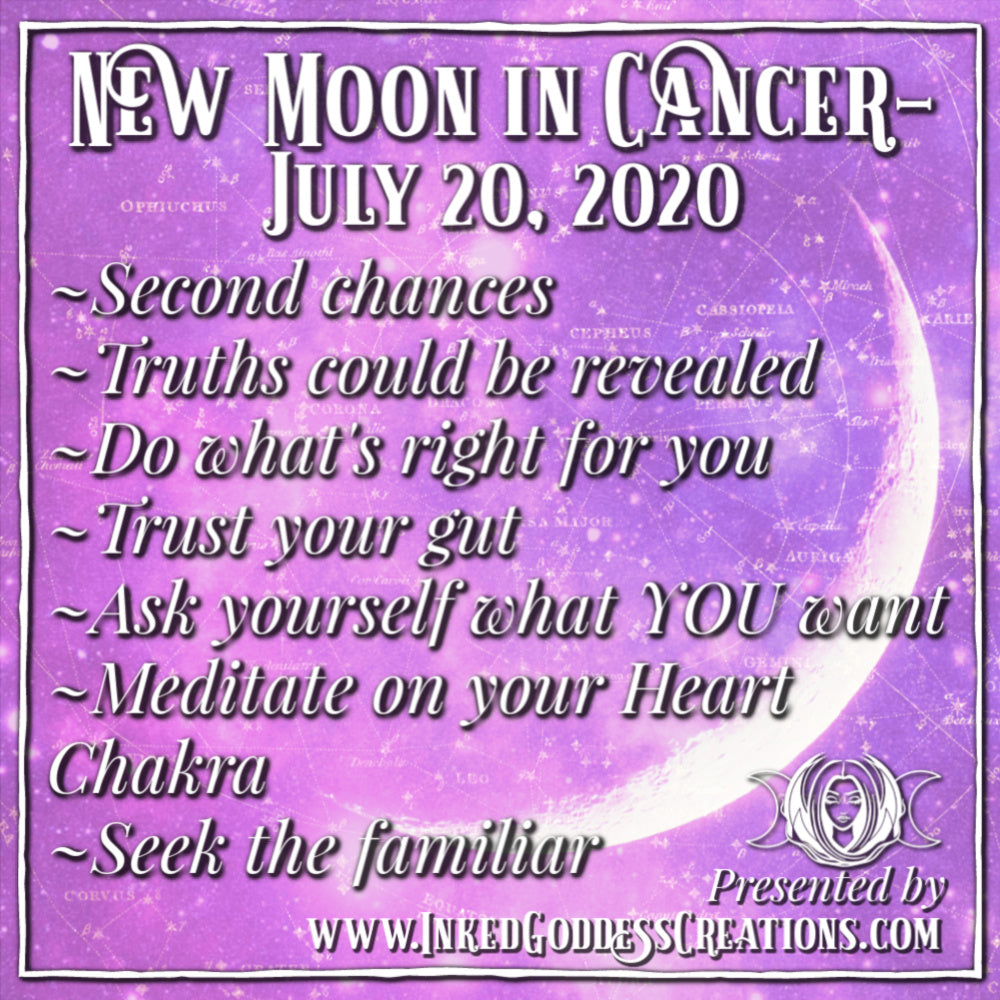 New Moon in Cancer- July 20, 2020
On July 20th, the New Moon in water sign Cancer arrives. This moon in Cancer is also considered a double New Moon (also known as a Black New Moon) since we just had a Cancer New Moon in June. This is a rare opportunity, and offers you a second chance at creating a better future for yourself! Intuitive sign Cancer graces you with her gift of emotional knowledge, proving once again that your feelings are important, and this will teach you more about yourself than anything (or anybody else) could ever. 


July 20th's New Moon is opposed by planets Saturn, Jupiter, and Pluto in Capricorn. Even though you might already be extra sensitive now, the truth won't wait to reveal itself. Cancer energy will urge you to stay home and do what feels safe and familiar. Try not to react negatively when life decides to give you an uncomfortable decision to make. Now is the time to listen to your intuition and do what feels right to you, regardless of anyone else's opinion.

Mercury turned direct from its retrograde status on July 12, which means it is getting easier to get your point across to others. This is also true for yourself. Sometimes you have to be lost and willing to walk into the unknown, trusting that your efforts will be rewarded when the time is right. In meditation, focus on the Heart Charka. Ask your body what it wants to feel in terms of relationships and career choices. The answer is sure to come!
Wishing you a flowing New Moon in Cancer!
~Juliana M. Fanucchi
Author Bio:
Juliana began studying astrology at a young age.  She believes that through understanding how the planets affect us, we can learn how to use their energies to better ourselves and our lives.  Juliana studies other metaphysical subjects including numerology, tarot, gemstones, and practices Nicherin Buddhism.  In 2016, she earned her 200 hour Yoga Teacher Certification. She currently resides in Tucson, Arizona.