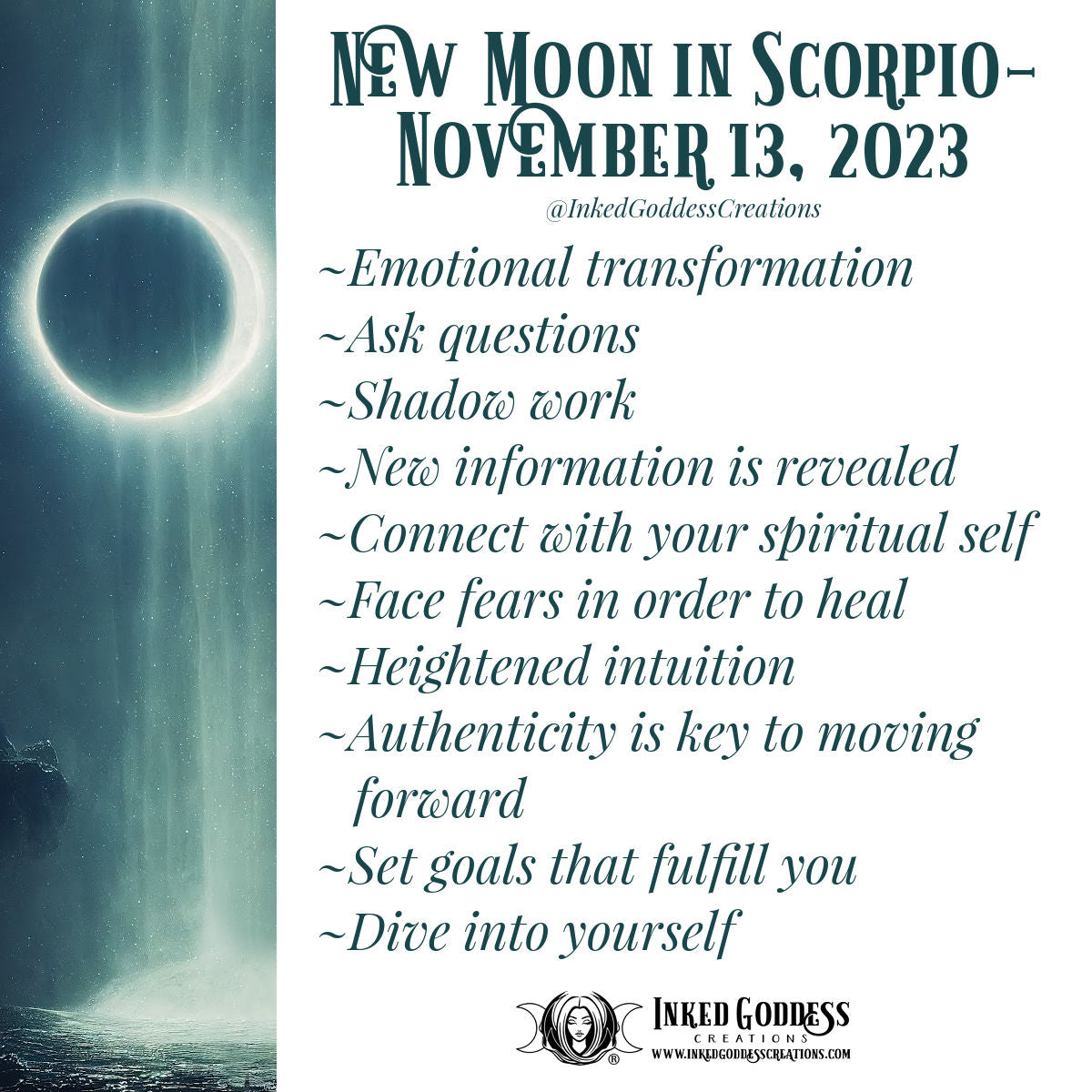 New Moon in Scorpio- November 13, 2023
The New Moon in Scorpio arrives on November 13, 2023, to help you dive into yourself a bit more. Scorpio is an emotionally charged sign, so a New Moon in Scorpio can open doors to emotional transformation for you. If you have been wanting to start or dive deeper into your shadow work, this New Moon can help you understand and process emotions that arise from that. Scorpio energy urges you to face your fears, traumas, and limiting beliefs head-on so that you can finally heal from them. 
This New Moon could bring to light some new information for you that was previously hidden in the shadows. Scorpio energy wants to help you uncover hidden mysteries- whether about yourself or others, and the best way to do that is to ask questions. Question what you have been told in the past, limiting beliefs you currently hold, or ideas that you may have outgrown. Scorpio energy urges you to be your most authentic self, so bring that version to the surface during this New Moon so that you can move forward in life.
Scorpio is highly intuitive, so you could find that your intuition and psychic abilities are heightened under this New Moon. Take some time to connect with your spiritual self and ask them what they need from you. Meditate, practice divination, perform magick, connect with your higher self or deities- do whatever it is that makes your witchy or spiritual self feel fulfilled. In fact, this Scorpio New Moon helps you focus on what fulfills you the most- passion projects, creative endeavors, pleasurable activities- so that you can set goals centered around them.
Blessings,
Morgan