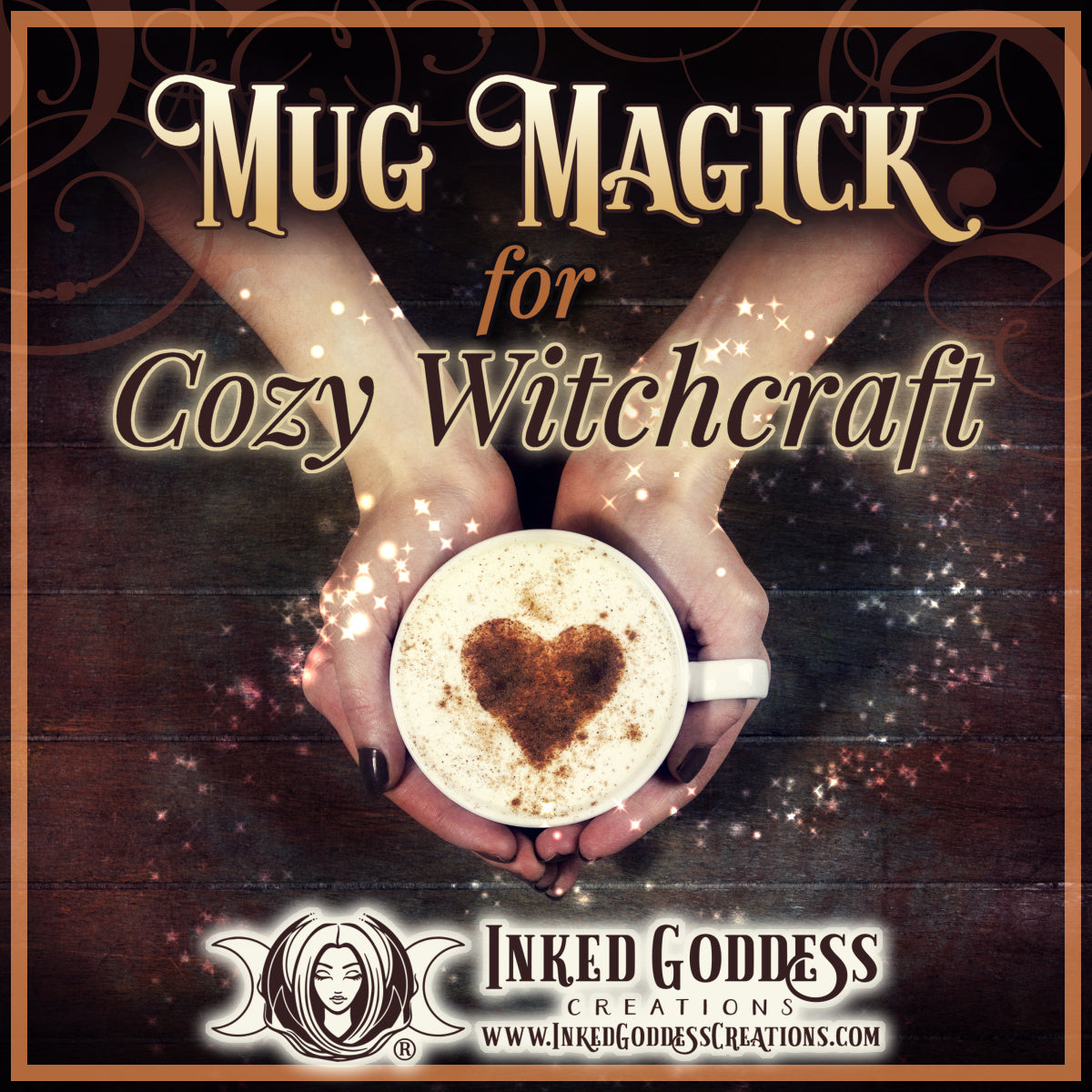 Mug Magick for Cozy Witchcraft
We're busy witches here at IGC, so we're big fans of any witchcraft we can incorporate into our everyday lives. Enter mug magick! What is mug magick? Quite simply, it's any kind of magick you can do with your coffee, tea, or cocoa. What makes mug magick so appealing is that you can work it into your day easily, without having to create an elaborate ritual. Talk about something we busy witches need in our busy lives!
Here are some suggestions for making some mug magick.
Simple Ingredients for Mug Magick
Sometimes, practicing busy witch magick is as easy as adding an ingredient or two to your mug. One of my favorite ways to add magick to my morning coffee is to stir sigils into the liquid using a cinnamon stick. Cinnamon is protective and healing, and invites prosperity into our lives. It's also delicious in black tea if you're not a coffee drinker.
Here are some other ingredients to add to your coffee or tea to make your beverage even more magickal!
Sugar: Use to sweeten a situation, spread happiness, or for love (and self-love) spells.
Apples: Add a slice of apple to your tea (or apple cider!) for protection, fertility, abundance, or to connect with Avalon or the fairy realm.
Oranges: Add an orange slice for divination.
Pumpkin Pie Spice: Use to attract abundance and to express gratitude for what you have.
Lemon: Add a slice or some lemon juice for happiness, clarity, purification, or to cleanse the aura.
Honey: Add for prosperity, wealth, and healing.
Magickal Hot Cocoa Ingredients
Cocoa is a wonderful way to practice mug magick as the cocoa powder, milk, and sugar blend brings comfort on a chilly day. Cocoa and chocolate inspire romance and love. However, you can add other ingredients to your hot brew for different energies, such as:
Vanilla for enhanced mental powers
Marshmallow for healing
Allspice for money or luck
Chili Powder for passion
Coconut for purification
Orange for divination
Cinnamon for success
Caramel for positivity
Clove for protection
Nutmeg for fidelity
Tea Blends for Witches
Another busy witch hack for mug magick is to pick up ready-made tea blends or create your own for different magickal purposes. Here are some ideas:
Lemongrass tea for psychic intentions and divination
Peppermint tea for healing and prosperity
Rose tea for love and psychic abilities
Earl Gray Tea, which contains Bergamot, for cleansing, prosperity, and strengthening the aura
Strawberry blends for love, creativity, fertility, and the Divine Feminine.
Here are other herbs and spices to look out for when shopping for tea blends – or creating your own!
Protection Herbs and Spices for Tea and Coffee
Anise
Black Pepper
Cinnamon
Mint
Grounding Herbs and Spices for Tea and Coffee
Healing Herbs and Spices for Tea and Coffee
Cinnamon
Ginger
Peppermint
Salt
Love Herbs and Spices for Tea and Coffee
Chamomile
Cinnamon
Clove
Ginger
Hibiscus
Lavender
Licorice
Peppermint
Rose
Spearmint
Vanilla
Prosperity Herbs and Spices for Tea and Coffee
Allspice
Chamomile
Cinnamon
Clove
Ginger
Nutmeg
Pumpkin Pie Spice blend 
Which ingredients will you use in your next mug magick ritual?
Many cozy blessings,
Megan