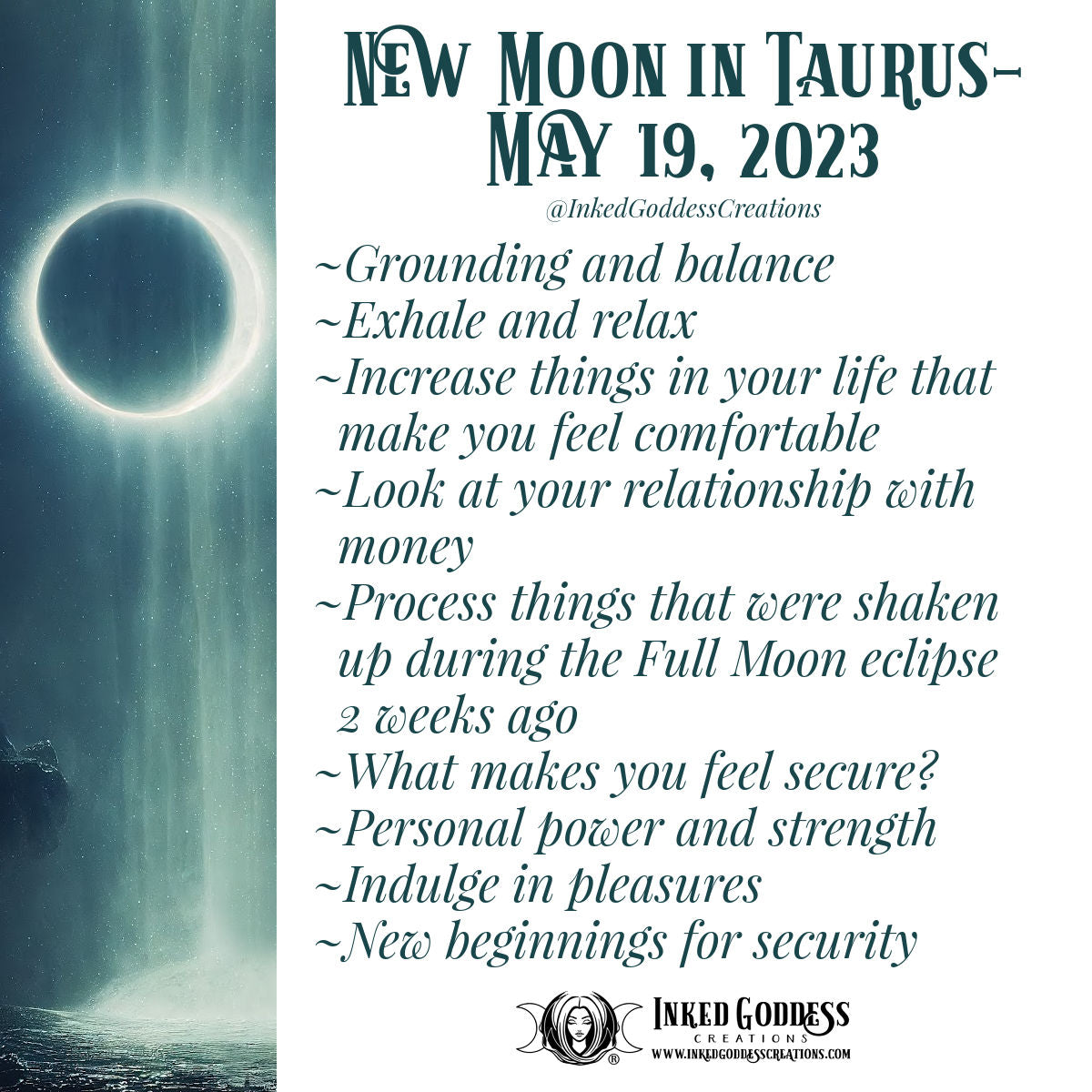 New Moon in Taurus- May 19, 2023
The New Moon in Taurus arrives on May 19th, bringing in a much-needed energetic break during recent planetary retrogrades and eclipses. Taurus energy is grounded and stable and allows you to take a deep breath, exhale it out slowly, and relax. Now is a great time to rebalance yourself after that last few months of change and unsteadiness. Process things that were brought to light or shaken up during the Full Moon with lunar eclipse in Scorpio two weeks ago and create an action plan for moving forward. 
Taurus energy wants you to surround yourself with things that bring you joy, comfort you, and make you feel secure. With this New Moon in the sign of Taurus, it's a great time for new beginnings that deal with these types of energies. It's time to ask yourself- What makes you feel secure? Do you have that in your life? If not, then how can you achieve that? As the sign of Taurus also deals with your relationship with money, this New Moon is a great time to reassess your budget, start a new side-gig that can bring money in, or take a look at your current finances and see what you can cut out, so that you can build a more financially secure and comfortable future for yourself. 
The planetary alignments surrounding this New Moon lend energy toward helping you activate your personal power and strength. This could help with a boost of motivation and creativity when it comes to how you can increase your comfort and security levels. While it might seem contradictory to do so, taking some time to indulge in the simple pleasures of life and relax can actually help you clear your mind to see the bigger picture of what you want for your life, helping to light that fire of motivation and creativity.
Blessings,
Morgan