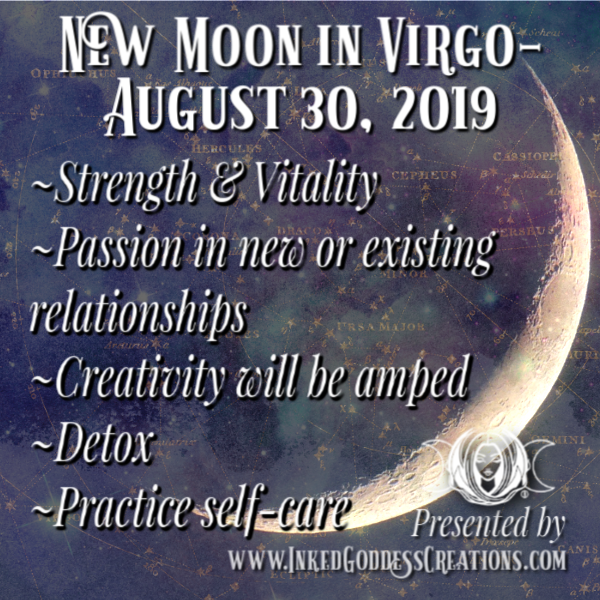 New Moon in Virgo- August 30, 2019
August 30th's New Moon in Virgo sparks a time of strength, vitality, and passion! Planet Mars is conjunct this New Moon, which means there is an aggressive energy affecting everyone. Luckily, Venus and Mercury are positioned close by, helping you channel this energy into your creative pursuits. Venus's influence teaches you that love and patience go a long way in expressing yourself, while  Mercury reminds you to be tactful, and think things through before you act. 
The combination of Mars and Venus creates a strong desire for love and sex. There is a chance of attracting new romance or increased feelings of excitement in current relationships. You will be able to clearly understand the deeper emotions that are fueling your passions. Starting a new project will also be easy now, as inspiration can be found in daily experiences!

Virgo also represents health and regeneration. This is an ideal time to detoxify your body and get in touch with yourself. A sense of balance can be created by updating your daily routine. Set up a space in your home dedicated to self-care to inspire time for becoming content, grounded, and secure in who you are. When you truly feel like a whole and complete person, the more you can attract successful people and opportunities into your life.
Wishing you a positive New Moon in Virgo! 

-Juliana M. Fanucchi 

Author Bio:
Juliana began studying astrology at a young age.  She believes that through understanding how the planets affect us, we can learn how to use their energies to better ourselves and our lives.  Juliana studies other metaphysical subjects including numerology, tarot, gemstones, and practices Nicherin Buddhism.  In 2016, she earned her 200 hour Yoga Teacher Certification. She currently resides in Tucson, Arizona.