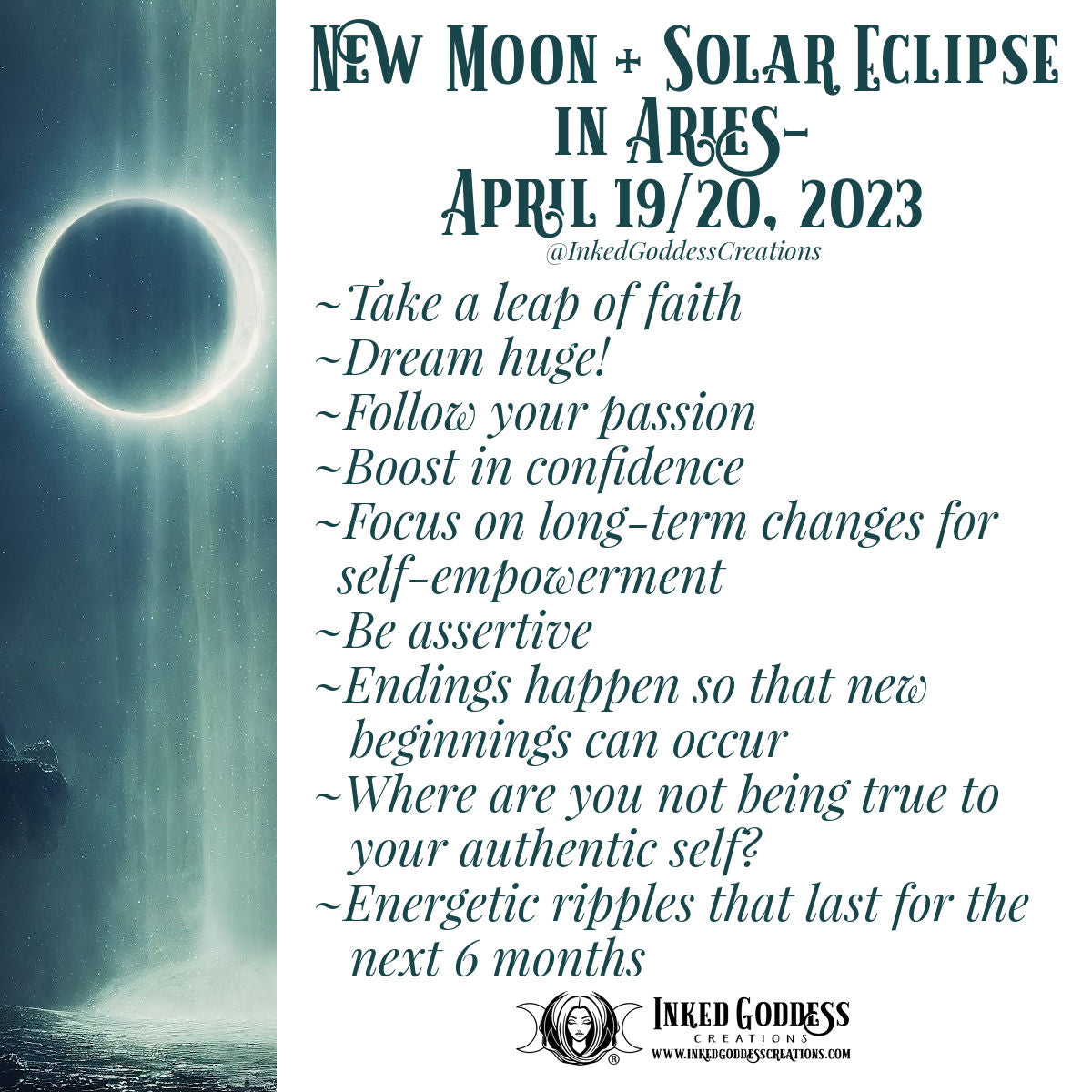 New Moon + Solar Eclipse in Aries- April 19/20, 2023
Our second New Moon in Aries of this year arrives on April 19th/20th (9:12 pm PT/ 12:12 am ET), and this one is accompanied by a powerful Solar Eclipse to really shake things up. This New Moon with Solar Eclipse contains the last bit of Aries' motivational energy before we enter grounded Taurus season on April 20th. It could not only give you a boost of self-confidence but also urge you to take a leap of faith on your wildest dreams. New beginnings started now will have an energetic ripple effect that lasts for the next six months at least! 
This Aries New Moon wants you to live your truth, so it might shine light on areas of your life where you are not being true to your authentic self. Make a list of things that you love doing, that make you feel like yourself. Then make a list of things you do on a daily or weekly basis. Compare the two lists. Are you honoring yourself and your true passions that lie deep down, or are you going through the motions of life and not truly embracing yourself? This New Moon is a great time to stand up, be assertive, follow your passion, and be yourself!
Solar Eclipses give a huge burst of energy to magickal endeavors, so take this time to really focus on reconnecting with yourself again. Breaking out of your mundane routine can really help you empower yourself, and any positive changes you make now will have the ability to stick around for the long term. Know that some things may no longer fit you as the person you are becoming, so keep in mind that sometimes endings need to happen so that new beginnings can occur. As long as you remain positive that the changes happening now are for your highest good, you can easily embrace what this Aries New Moon with Solar Eclipse is gifting you! 
Blessings,
Morgan