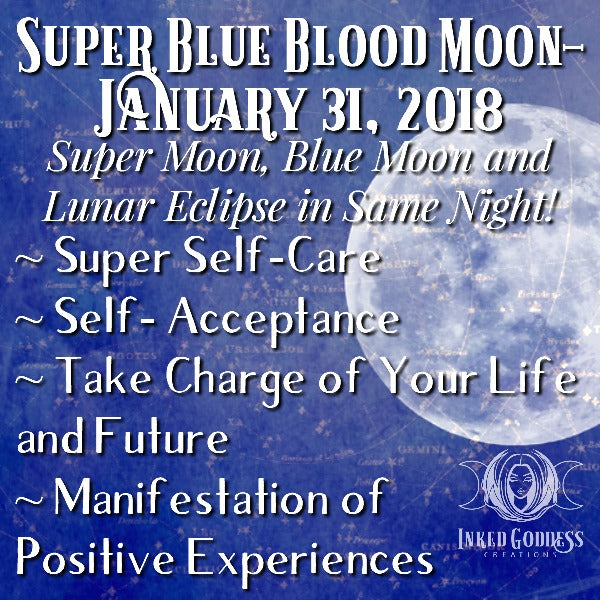 Super Blue Blood Moon- January 31st, 2018
January 31st, we'll have a total lunar eclipse that happens to be the second full moon in the same month!  The full moon's point of orbit also brings it closer to Earth, making it look larger in the sky. That makes this particular full moon special since it's a Blood Moon, a Blue Moon, and a Super Moon all at once! The last time this happened was March 31,1866! 
A full moon in Leo comes to remind us the importance of our self expression. How we view ourselves affects how we see the world. I believe this event will bring us more motivation to make a positive difference in our lives! And even if you don't make any changes on your own, chances are surprises will come up for you anyways. Leo gives us plenty of courage and vitality to be up for anything!
So, what does it mean to have Leo full moon the same day as a blue moon and super moon? Overall, self-acceptance is something we should start working now, as lunar eclipses bring opportunities to tend to our relationship with ourselves. Leo is passionate, creative, and has expansive energy, so whatever you learn about yourself now will be powerful. Lunar eclipses tend to bring out different sides of who we are as well, sometimes referred to as our "shadow selves." Deeper aspects of ourselves may need extra attention or recognition in order to either use it or let it go for your future success.
Leo lunar eclipse inspires us to take charge of our experience in this lifetime.  Making ourselves a priority may seem selfish, but unless we are functioning harmoniously then how can help create peace for others? 
This super blue moon is bound to bring unpredictable energies, which just means it's a chance to grow as a person. If we can learn to be fearless and embrace life's limitless opportunity in spite of the uncertainty, we are sending out a message of strength, and most importantly, faith. This is a powerful time to manifest, so we need to be extra clear on what it is that our hearts and souls desire. I highly recommend that you take time to sit with yourself and create that space to manifest. Creating a ritual can be as simple and effective as clearing your mind, setting an intention, and taking action on what you wish to achieve. If you already have a ritual for lunar events, consider adding some Leo energy to attract abundance. I would also suggest you keep the items you use to just the essentials, so you can allow space for new opportunities to enter your life.  Practice self-love and appreciation and see what positive experiences you can create for yourself and others!  I hope you enjoy this exciting lunar event!

- Juliana M. Fanucchi
Author Bio:
Juliana uses astrology to understand how the planets can affect us on a mental, emotional, and spiritual level. Raised as a Nichiren Buddhist, she studies other metaphysical interests like numerology, music, tarot, and gemstones. She received her 200 hour yoga certification in December 2016. She currently lives in Tucson, Arizona. You can follow her on Instagram- instagram.com/whooliana.