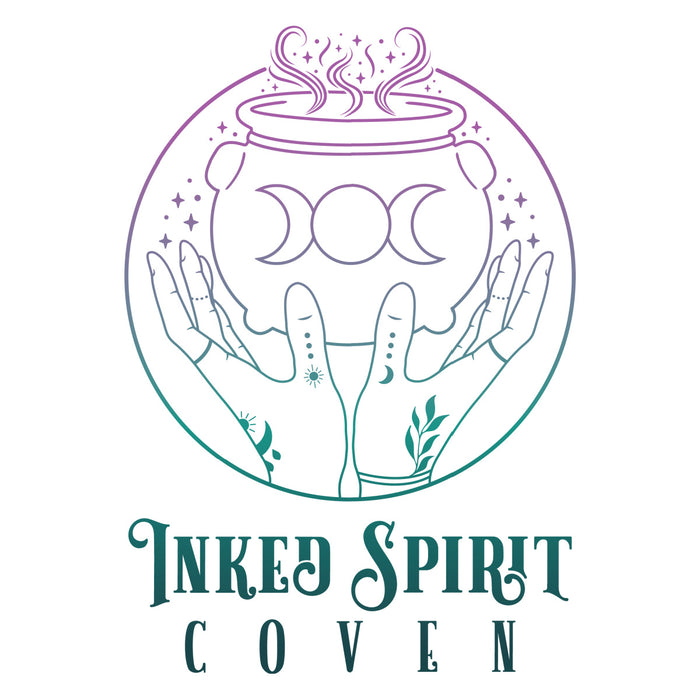 Inked Spirit Coven Online Monthly Membership
Save

Liquid error (snippets/product-badge line 32): Computation results in '-Infinity'

%
Welcome to the Inked Spirit Coven, a monthly online membership group and program hosted by Inked Goddess Creations!
*This is NOT our subscription box. This is an online monthly membership with digital content. Please see our Inked Goddess Creations Box listings for our monthly subscription box.*
Are you looking for a magickal place where you can just be you?
The Inked Spirit Coven is an online learning circle for eclectic witches who want to learn new witchcraft practices and how to easily incorporate magick into their daily lives, while being supported on their personal spiritual journey.
When you join the Inked Spirit Coven, you will:
Be able to sift through the massive amounts of information out there *with active guidance* to discover magick that resonates with you and fits your life
Connect with other eclectic witches in a high-vibe online community
Develop regular magickal practices that empower you to create the life you deserve
Gain the confidence to become the witch you know lives deep down inside of you!
Here, you find a place to meet with your fellow witches to learn, share ideas, and be your authentic self. Here, you are a member of a community that supports you. Here, you learn how to remember your power and unlock your magick. Here, you can rewild and reconnect with Mother Earth, the moon phases, the seasons, the natural rhythms of life, and yourself.
Each Month, Your Inked Spirit Coven Membership Includes:
One Group Live Lesson on Facebook with Morgan
One Group Live Workshop on Zoom with Morgan
Downloadable Book of Shadows Pages for Each Lesson, Designed by Morgan
Member's Only Facebook Group
Monthly Magickal Challenge
Weekly Magickal Practices
Daily Discussion Topics including Spell Help
Monthly Downloadable Freebies
Member's Only Blog Posts from Morgan
Member's Exclusive Monthly Coupon Code for 6% Off Inked Goddess Creations Purchases
Direct Access to Morgan via the Facebook Group, Live Lessons, and Workshops
Bonus Benefits: 
A member-only portal on the Inked Goddess Creations website with monthly inspiration.
MP3 downloads of Inked Spirit Coven exclusive guided meditations to have on your phone or computer for when you need it
Access to over a year's worth of content in our Lesson Archives, which includes video lessons and book of shadows pages
Pre-recorded solitary Sabbat rituals, guided by Morgan
Inked Spirit Coven exclusive products for sale in the store some months
Extra downloadables that coincide with lessons or activities for the month.
Inked Spirit Coven is for you if:
You are looking to expand your witchcraft knowledge
You are looking for tips on how to incorporate magick into your everyday life
You are a busy witch
You are a beginner witch
You are a seasoned witch who is always open to learning
You are looking to be a part of a supportive, witchy community
Inked Spirit Coven is NOT for you if:
You don't want to devote time to your spiritual development
You're hoping for a magick pill to fix all of your problems immediately
You want someone to just tell you what to do each step of the way
You want an organized online coven complete with a high priestess
You are stuck in your belief path and not open to learning new ways of doing things
You don't have reliable internet access or want things mailed to you each month. Inked Spirit is an

 

online

 

membership.
The introductory rate for Inked Spirit Coven membership is $25 per month. If you join at this $25 rate and do not cancel your membership, your rate will remain $25 per month regardless of when this introductory rate ends.
*Again- this is NOT our monthly subscription box. This is a membership GROUP. Due to the digital nature of Inked Spirit Coven, refunds are NOT given.*
Inked Spirit Coven is an automatically recurring monthly subscription. You will automatically be charged on the same day each month as when you signed up. If you cancel your membership, you will be removed from the Facebook group, and access to members-only sections of the website will be restricted. If your charge declines on your renewal day, we will give you a few days to fix the decline, then your monthly subscription will be canceled.
All content for Inked Spirit Coven is hosted online or is digital; physical products are only included on rare occasions. If you do not have a Facebook account, the videos will be made available to you through our Lesson Archives, but you will not have access to the online community of other like-minded members.
By purchasing this listing, and beginning your Inked Spirit membership, you are agreeing to all of the terms stated in this listing.
Other items in the picture are for size reference only and are not included with the purchase.
Metaphysical properties of Inked Goddess Creations products are not guaranteed; I supply the tools, you supply the magick. Products should not be used in place of proper professional advice or treatment. If skin irritation occurs with body products, discontinue use immediately. Never leave a burning candle unattended. Internal use of herbs is not recommended, especially without having first consulted your doctor or a certified herbalist.
Love this membership!
Finally, membership box that makes sense to me! Just got my first monthly subscription box and it was so well thought out and put together. It wasn't full of cheap baubbles and trash..... There was obvious intention put into each piece and it made me want to dive right into learning more about the in-between. Thank you so much for the obvious effort that is put into creating these boxes. I cannot wait for December's box!
Inked coven
Best money ever spent. Love this online community. Thank you @ Morgan Moss for making this group special. The materials you provide are so thoughtfully written and designed. I've a wealth of knowledge at my fingertips!
Excellent Group
I'm not a people sort of person. I've never felt the need and/or desire to be in a coven or group. But after being an IGC customer, I felt drawn to join. I'm really glad I did. The monthly topics are really awesome & always bring fresh perspective & knowledge. There is SO much information in the archive & I find it really easy to scroll through & jump into a topic that interests me. The workbooks and BoS pages are all so nice & graphically beautiful. The bi-montly lesson & workshops are really cool & it's pretty neat to be present real-time. The Facebook group is also great, with daily discussion questions and tons of support & encouragement from members.
I'm learning alot
I am really enjoying my Inked Spirit Coven membership so far. I love that I am learning and can go back and review past lesions and watch Video's. I also enjoy the community and Morgan!
So happy I finally joined
I'd been thinking about it for awhile and I'm so glad I finally joined. Morgan is a wonderful teacher and the materials are not only informative but also beautiful. I love that I can go through archives of previous months and the private group is full of wonderful people