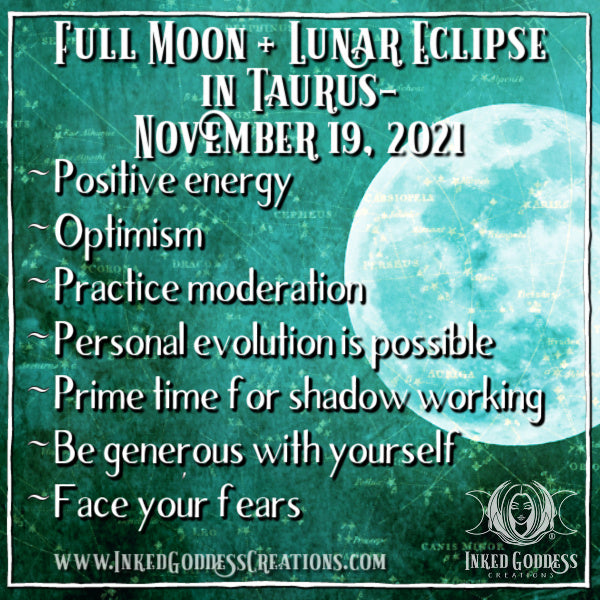 Full Moon + Lunar Eclipse in Taurus- November 19, 2021
The Full Moon in Taurus on November 19th is also a partial Lunar Eclipse. This means the effects from this Full Moon are more powerful. Planet Jupiter is square this Taurus Moon, giving plenty of positive energy and optimism. The square aspect suggests you should practice moderation as you may be more prone to over-exaggerating your abilities or being irresponsible by relying purely on luck. 
The lunar eclipse is also in trine with Pluto in Capricorn. Transformation and personal evolution are encouraged now. Studying education, philosophy, and mystical or religious topics can provide faith when you are feeling discouraged. This Full Moon is an opportunity to grow materially and spiritually, by learning how to be more generous with yourself and with others. 
This Full Moon in Taurus will shine a light on whatever it is that is lacking in your life. Taurus is ruled by planet Venus, so this could have to do with your attitude toward finances, karmic relationships, and power. Opposite the Moon in Taurus is the Sun in Scorpio, along with two other planets currently in Scorpio. Secretive and intuitive Scorpio shows you the importance of facing your vulnerabilities, fears, and truths that have been hiding away in your subconscious mind. Once they are seen clearly for what they are and where they stem from, you will walk away from them feeling more empowered than ever! 
- Juliana M. Fanucchi
Author Bio: Juliana began studying astrology at a young age. She believes that through understanding how the planets affect us, we can learn how to use their energies to better ourselves and our lives. Juliana studies other metaphysical subjects including numerology, tarot, gemstones, and practices Nicherin Buddhism. In 2016, she earned her 200 hour Yoga Teacher Certification. She currently resides in Tucson, Arizona.