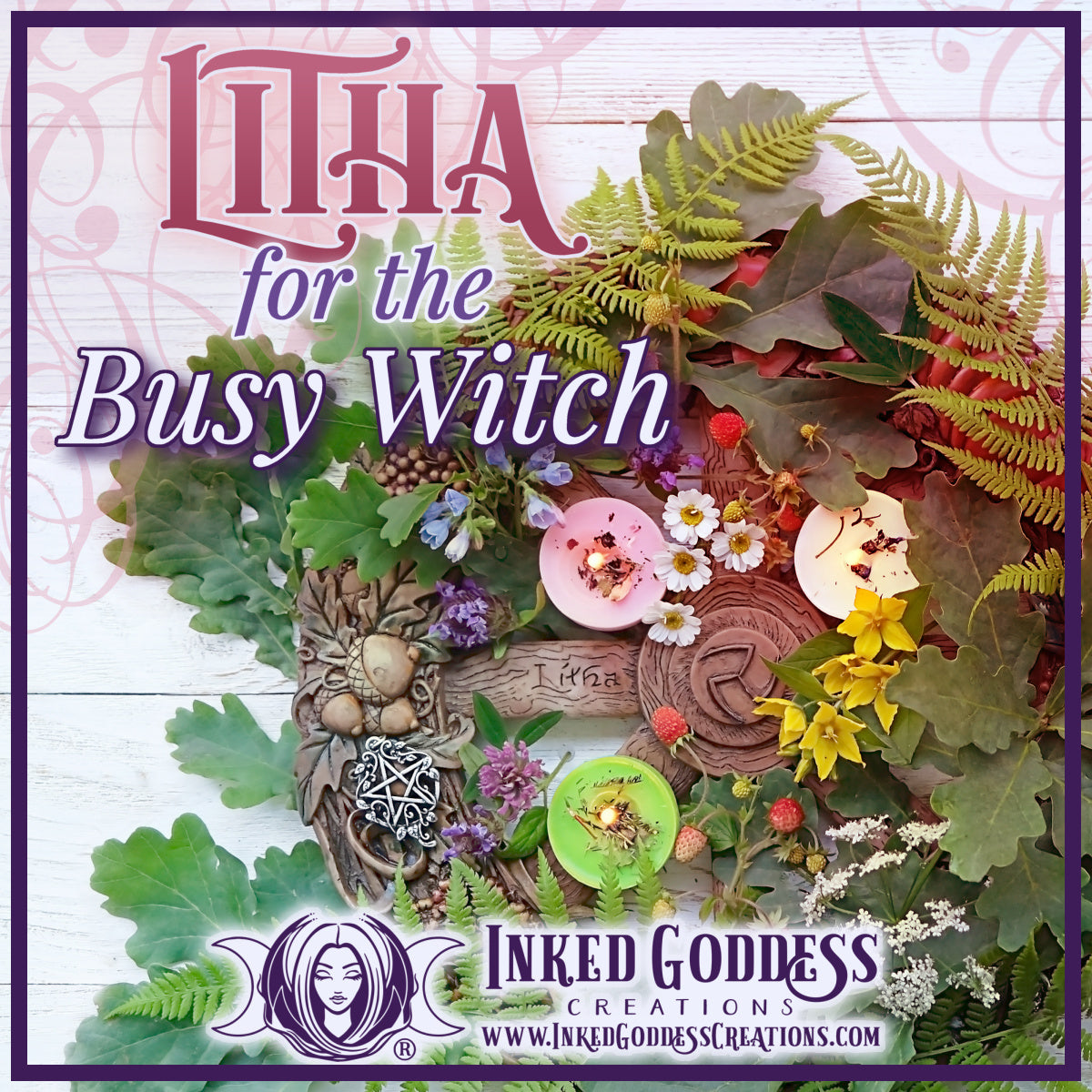 Litha for the Busy Witch
Summer Solstice is the longest day of the year when the sun is highest in the sky. Litha is the celebration that correlates with the Solstice, and it's all about using the sun's energy to fuel your life. The best way to do this is to get out into the sun, and we've got some interesting ideas for your quick and simple Busy Witch celebration.
Litha's energy is fun, fiery, and celebratory. This sabbat is about the divine masculine, which supports confidence, motivation, and courage.
Here's a fun fact: Litha is sometimes called Midsummer. The Celtic calendar starts with November 1st. So, November, December, and January are winter months. February, March, and April are the months for spring, and May, June, and July are the summer months. June is in the middle of the Celtic summer, and Litha is in the middle of June, so it's called Midsummer.
Regardless of what you call it, during this time, you want to celebrate how far you've come so far this year. Celebrate your achieved goals and any intentions you've already fulfilled. You can also reevaluate how far you've come and how far you still need to go to make the dream a reality.
Remember, the divine masculine is here during this time of the year to help you continue the forward momentum you need to achieve your goals.
Welcome the motivational energy of the sun into your life!
Litha Correspondences
Colors
Décor
Imagery of fire or the sun
Sunflowers
Bees
Honey
Yellow flowers
Beach imagery – especially if you spend your summer near the ocean.
Sundials
Summer fruits
Fake flowers are also ok, especially in the summertime when it's hard to keep flowers around.
Think fire and the sun for your altar and décor, and you'll be good to go!
Herbs, Spices, Incense, and Scents
Citrus (orange, lemon) and lavender scents are especially great for Summer Solstice. Here are some more ideas:
• Cinnamon
• Clove
• Saffron
• Calendula
• Galangal root
However you choose to use these scents, they'll add motivational energy to your environment and day.
Gemstones
• Carnelian
• Fire Agate
• Sunstone
• Citrine
• Coral
• Tigers Eye
Wear them or carry them with you to take your magick on the go. You can also add them to a spell bag and toss it in your purse for magick that stays with you throughout the month.
Easy Practices for Litha
Spend Time in the Sun
The easiest and cheapest way to celebrate this time of year is to go outside and honor the sun. Allow it to soak into your body (carefully!!) and feel the power of its energy. We recommend going out at dawn or dusk if you live in a hot climate like Arizona. Also, wear sunscreen if you'll be out for a long time throughout the day. Sunburns are not fun!
Candle Magick
Candle magick is perfect for Litha too. Hold an orange, yellow, or red candle in your hand and infuse it with an intention for the rest of the year. Then light it and allow the candle to carry that intention into the air.
Gratitude Magick
This is also a great time to practice gratitude magick. Give thanks for how far you've come, and open yourself up to continuing to move forward. Open yourself up to the motivation and creativity that will come to you before the end of the year. When you show the universe that you're grateful for what you've achieved and received, more blessings will come to you!
Grilling Out
Weather permitting, grilling out is a great way to infuse your food with that fiery energy and get a little kitchen witchery in too!
Kitchen Witchery
Speaking of kitchen witchery, try adding some edible flowers to your recipes. You can sometimes find them in the refrigerated herb section of the produce department at your grocery store. Add them to a pitcher of lemonade!
Try some lavender lemonade for an extra dose of the Summer Solstice energy! It's delicious and magickal.
Fresh fruits and vegetables are also perfect for celebrating Litha in the kitchen. Watermelon, peaches, cherries, berries…you name it! And, of course, orange or yellow foods also bring solar energy to your meals.
And if you're pressed for time, intentionally purchase a fruit salad or another item already prepped for mealtime. As long as the intention is there, it's ok if someone else cut up all those fruits for you!
Remember, busy witch or not, YOU bring the magick to your practice. So enjoy the Solstice in the ways that work best for you!