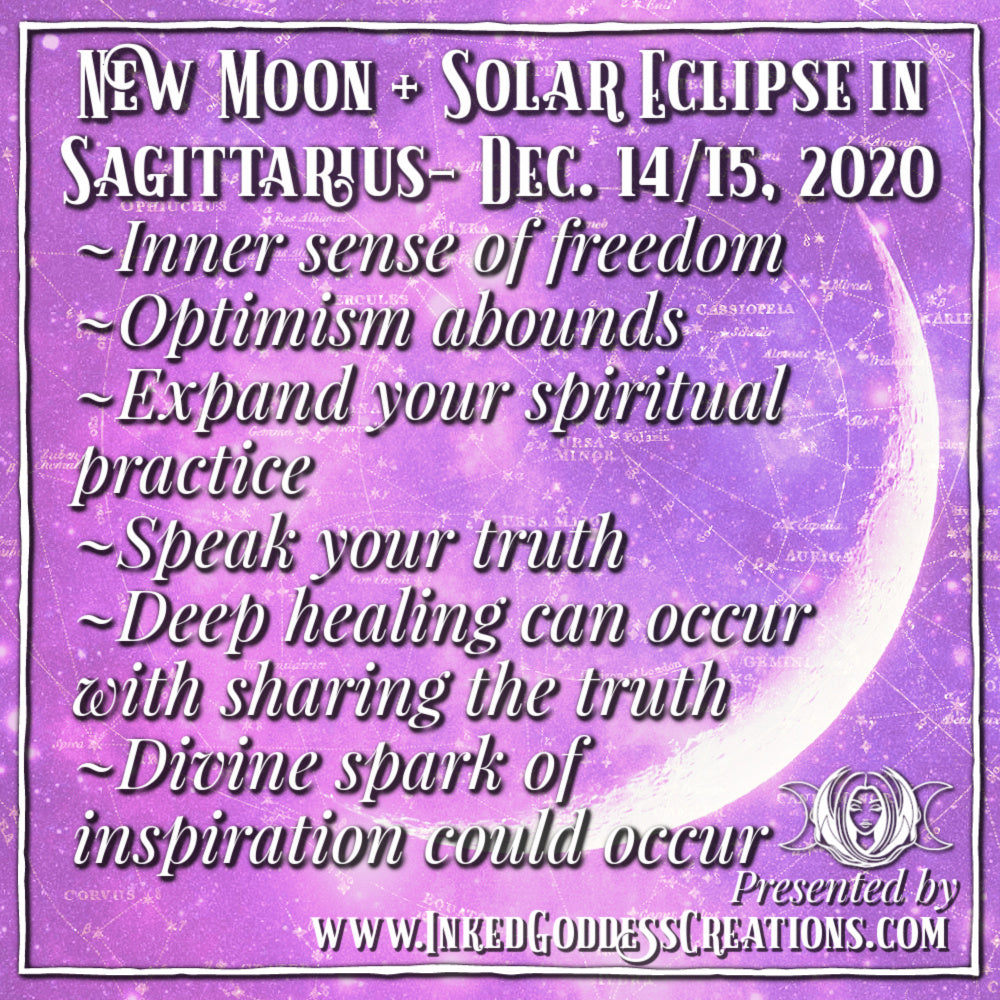 New Moon + Solar Eclipse in Sagittarius- December 14/15, 2020
The final Solar Eclipse of 2020 arrives the same day as New Moon in fire sign Sagittarius. You will feel an inner sense of freedom which urges you to be more confident in your emotions. Sagittarius loves to go on journeys, whether it be out in the world or within yourself, to immerse yourself in new and different experiences. Use this potent New Moon and Solar Eclipse energy to attract abundance to you through finding the wisdom needed to choose the best path for the future.
Planet Mercury is conjunct New Moon in Sagittarius, helping you to gain an optimistic outlook on yourself and the world around you. This can work well with planet Neptune in Pisces, as it can also expand your consciousness and spiritual beliefs. Making changes in your spiritual practice and routines will strengthen your connection to the universe when setting New Moon intentions! 
Sagittarius New Moon asks you to speak out and share your truth so that you can create meaningful connections with others. Planet Venus is in Scorpio, and is positively aspected Jupiter and Saturn, which are both conjunct Chiron. Deep healing can take place through expressing and sharing our true affections in one on one relationships. The Solar Eclipse and New Moon in fortunate Sagittarius c
onnects you with the divine to spark an inspiration that gives your life a grand new meaning!
Wishing you a powerful New Moon in Sagittarius!
-Juliana M. Fanucchi
Author Bio:
Juliana began studying astrology at a young age.  She believes that through understanding how the planets affect us, we can learn how to use their energies to better ourselves and our lives.  Juliana studies other metaphysical subjects including numerology, tarot, gemstones, and practices Nicherin Buddhism.  In 2016, she earned her 200 hour Yoga Teacher Certification. She currently resides in Tucson, Arizona.