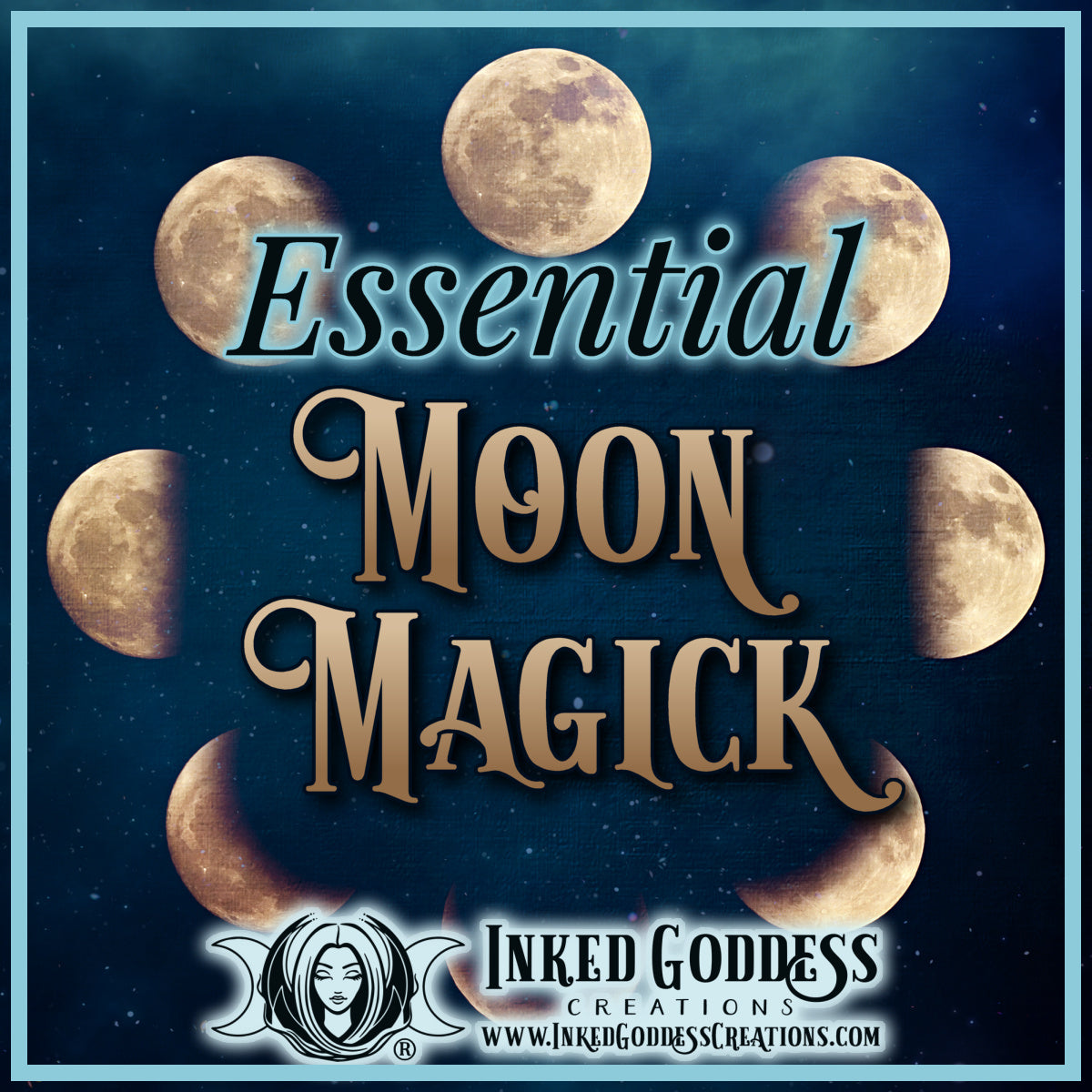 Essential Moon Magick
The New Moon and Full Moon get plenty of attention from witches, mystics, and even pop culture magazines. I personally think this does us a disservice! Did you know each phase of the moon gives us the chance to work different kinds of magick?
Before we dive into each phase, remember that the moon's energy flows. You can work with New Moon energy, for example, three days before and three days after to official New Moon. The same goes for the Full Moon. So, remember, go with the flow, just like the moon herself.
New Moon Magick
The New Moon is the first phase in the moon's cycle. This is the time in which we want to set our intentions for the lunar "month." It's also a wonderful time for starting something new: a job, relationship, or starting fresh in a new home.
Correspondences:
Herbs: Vervain
Animals: Hawk, Panther, Tiger
Goddesses: Cerridwen, the Morrigan
Creatures: Dragon
Color(s): Black
Waxing Moon Magick
The next phase is the Waxing Moon phase. Morgan shared a fun way to remember the phases' order: "Wax on, wane off," just like Mr. Miyagi in the Karate Kid. This phase is perfect for invoking beginnings, inspiration, and building magick toward the Full Moon. It's also the perfect time for constructive magick such as prosperity, love, health, and luck spells.
Correspondences:
Creatures: Fates, Norns
Goddesses: Aine
Other: Integrate correspondences for the New Moon and Full Moon into your work.
Full Moon Magick
The Full Moon phase is the moon at its peak of power. Do not release anything at the Full Moon! That's the equivalent of ditching your horse right before the finish line of the race. This phase is the perfect time for intuitive magick and divination. Any spells or rituals that need a boost of power benefit from this phase. Use the power of the moon to add an extra boost to your New Moon intentions.
Correspondences:
Herbs: Sandalwood
Goddesses: Arianrhod
Creatures: Fates, Norns
Animals: Goose, Peacock, Cow, Panther, Tiger, Wolf
Color(s): Red and Green
Waning Moon Magick
Now is the time to release things. The Waning Moon is perfect for banishing magick and releasing unwanted negative energies. This time is also great for scrying, strengthening your psychic abilities, and allowing the intentions and magick from the other phases of the moon to do their work.
Correspondences:
Goddesses: Bertha, Cailleach Bheur, Cerridwen, Macha, the Morrigan, Rhiannon
Creatures: Fates, Norns
Other: Integrate correspondences for the New Moon and Full Moon into your work.
Dark Moon Magick
When the moon is completely dark in the sky, right before starting the next lunar cycle, it is said to be the Dark Moon. This phase is an extremely powerful time for prophecy work, shadow work, and return-to-sender magick.
Correspondences (same as New Moon):
Herbs: Vervain
Animals: Hawk, Panther, Tiger
Goddesses: Cerridwen, the Morrigan
Creatures: Dragon
Color(s): Black