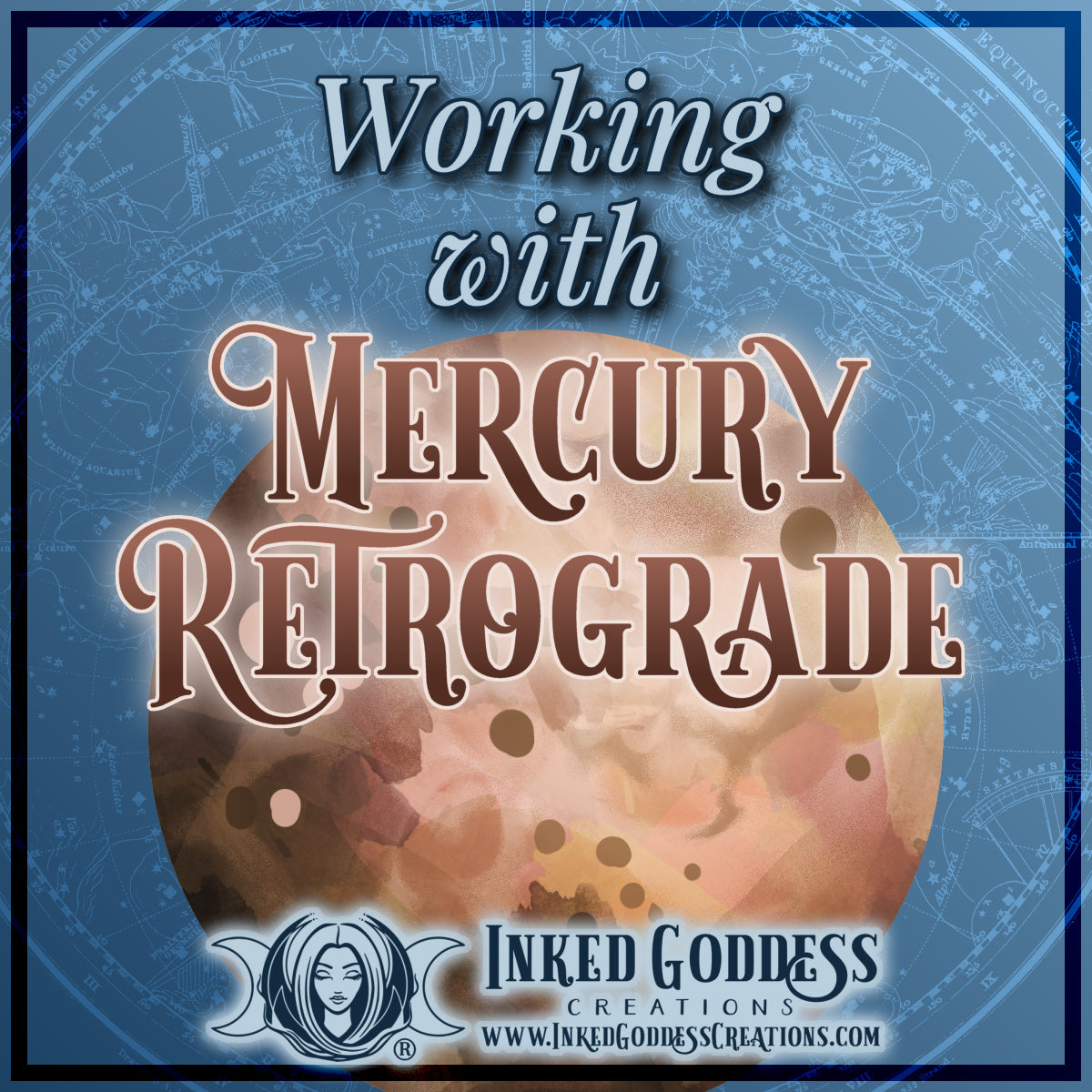 Working with Mercury Retrograde
Mercury Retrograde gets a bad rap. In reality, this is a magickal time to reassess and recalibrate our lives. So keep reading for tips on how to finally stop fighting Mercury Retrograde and start working with it!
Mercury's Energies
Mercury is the planet of change and communication, so it's no wonder that when it's in retrograde, our communication can be wonky. The planet also supports the energies of improvement, justice, wisdom, inspiration, intelligence, memory, renewal, and travel.
Working with Mercury
During Mercury Retrograde, you may want to use herbs and gemstones for support. Luckily, there's a long list of both tools to pick from, with common selections for both.
Mercury's Herbal Correspondences:
Bergamot
Cinquefoil
Clover
Dandelion
Dill
Fennel
Honeysuckle
Horehound
Jasmine
Lavender
Lily
Mandrake
Marjoram
Mistletoe
Peppermint
Rosemary
Sage
Gemstones for Mercury:
Snakeskin agate
Amber
Blue lace agate
Carnelian
Cat's Eye
Citrine
Fluorite
Hematite
Malachite
Opal
Peridot
Sardonyx
Sodalite
Yellow or Blue topaz
What to Expect During Mercury Retrograde
As Mercury deals with communication and travel, when it's in retrograde, you can expect delays and upheavals in communications and travel. Some common disruptions include:
Cars breaking down
Electronics breaking
Shipping delays
Packages going missing
Travel plans changing
Traffic
People not understanding what you're saying (and vice versa)
Emails getting lost or going to spam
Arguments
However, when you know what to expect during the retrograde, you can work WITH it!
Working With Mercury Retrograde
When Mercury is in retrograde, take extra time to assess your communication skills. This is a great time to focus on those who mean the most to you. If you find yourself in an argument, pause and reassess how your communication style might be contributing to the conflict. (Also, let's be honest, it could be all on the other person, but it's good to check in with yourself too.)
Create the travel protection bag or mini witch bottle for your car that you keep putting off. Use honeysuckle, mandrake, mugwort, rosemary, and a malachite gemstone for safe travels.
You can also use the time to slow down and study something new – or catch up on the reading that you're behind on. During the retrograde, I like to spend a little more time meditating so that I'm more centered throughout my day, too.
When you notice conflict arising during Mercury Retrograde, spend some time considering why it's coming up, and trust your intuition around it. The planet may be shedding some light on something that needs to change!
If you want some magickal helpers for Mercury Retrograde, check out our Out of My Way, Retrograde Mist or our Mercury Retrograde Perfume Oil, both blended with oils to help protect, focus, and calm!