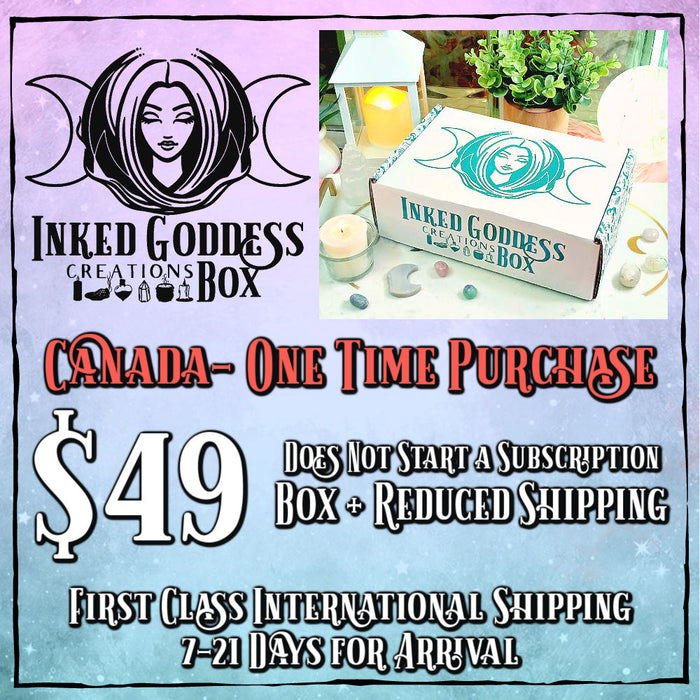 Inked Goddess Creations Box- One Time Purchase- Canada Listing
Save

Liquid error (snippets/product-badge line 32): Computation results in '-Infinity'

%
PLEASE READ: This is the listing for CANADA ONLY! We can not do recurring subscriptions to international countries, so you will have to purchase your box each month. International shipping is discounted for the Inked Goddess Creations Boxes, and is included in the total price once you add it to cart.
This listing is for October's box, which will ship on October 5th!
October's theme is Ancestor Magick!
Have magick delivered directly to your door with the Inked Goddess Creations Box.
Your Inked Goddess Creations Box will come packed with supplies that resonate with the energy and theme for that month.
The box each month will contain:
A beautifully scented handmade candle, exclusive to Inked Goddess Creations
A DIY- A kit, activity, meditation focus, affirmation, or altar set up for you to do (we want you making magick!)
Exclusive Eclectic Witch Card Expansion Packs that fit the month's theme!
Additional products to fit the theme of the month. Items will be a mixture of full-sized and sample-size, and could include Mists, Oils, Altar Items, Herbs, Gemstones, Divination Items, Booklets, Art Cards, Potion Bottles, Jewelry, Incense, Decor Items, Spell and Ritual Tools, Witchcraft Items and more!
Information cards to help add detail to the contents of your box each month, so you know exactly why the items were made or selected for you!
The boxes will not only contain many exclusive Inked Goddess Creations products which will not be available for purchase in the store until after that month's box has been shipped, but also exclusive box items that will NOT be for sale after the subscription box is sold out! We are also very big on working with other small businesses, artists and local businesses to bring you unique products that have amazing energy. We aren't simply a monthly witchcraft supply box; we want the Inked Goddess Creations Box to engage your mind, body, and soul to help inspire you to release the magick within you!
You can see our past boxes here, which are no longer available for sale, but gives you a great idea of what to expect with the Inked Goddess Creations Box!
***Please note: This listing is NOT for purchasing past boxes. If we have any past boxes available, they will have their own listings, but past boxes are not guaranteed. This listing is for the CURRENT month's box that we are accepting orders for, which is stated above. If this listing is purchased, you will be shipped the box stated above, and subscription boxes are non-refundable and non-returnable, as stated below.
If purchasing this as a gift for someone, please note that we are unable to include gift messages with the order, due to our packing and shipping process.
If you have ANY questions about ordering or our subscription box, please email us or see our FAQ page (scroll down to the Inked Goddess Creations Box section) before ordering!
This listing is for a one-time box purchase. This listing is NOT for the recurring monthly subscription. A one-time box purchase is perfect to give as a gift, to try before committing to a monthly subscription, or to purchase just a single month whose theme resonates with you.
Orders placed on or before the 1st of each month will apply to the upcoming box, which mails out around the 5th of the month. Orders placed after the 1st of each month will apply to the following month's box. (For example, orders placed on or before July 1st will be for the boxes shipped on July 5th. Orders placed after July 1st will apply to the August box.)
2023 Inked Goddess Creations Box Ordering & Shipping Schedule:
| | | |
| --- | --- | --- |
| Month's Box | Order By Date | Ship Date |
| January  | December 28, 2022 | January 3, 2023 |
| February  | January 28, 2023 | February 3, 2023 |
| March | February 28, 2023 | March 3, 2023 |
| April | March 28, 2023 | April 3, 2023 |
| May | April 28, 2023 | May 3, 2023 |
| June | May 28, 2023 | June 5, 2023 |
| July | July 1, 2023 | July 5, 2023 |
| August | August 1 , 2023 | August 7, 2023 |
| September | September 1, 2023 | September 5, 2023 |
| October | October 1, 2023 | October 5, 2023 |
| November | November 1, 2023 | November 6, 2023 |
| December | December 1, 2023 | December 5, 2023 |
Subscription boxes and their contents are non-returnable/non-refundable. This listing is for a one-time purchase of a monthly Inked Goddess Creations Box. This purchase will NOT renew, nor does purchase of this listing start a monthly subscription. By purchasing this listing, you are agreeing to these terms.
The Inked Goddess Creations® Box is a monthly box full of surprise magickal goodies, delivered directly to your door. Each month, you are guaranteed at least 3 full-sized products and multiple samples which all fit into the month's theme. Inked Goddess Creations Box® subscriptions come in a month-to-month subscription for $35 per month, a 3 month pre-pay subscription for $99, or a 6 month pre-pay subscription for $189. We recently added a one-time purchase option to send as a gift or to try a month with no commitment.
Best first witchy box!!!!!
I was so happy when I received my Fire element box for June! It's my first witchy subscription box ever and I decided to try Inked Goddess Creations and oh my gods was I not disappointed! I will definitely be buying another box! Will be checking for August for I am a stay at home mommy witch so the Boss Witch wouldn't be quite as good for me as for someone else. Blessed be!
Takes to long/miss holiday
I dont understand how something ordered at the very beginning of the month, can take so long. I realize it in out of country, but its only Canada. It takes long after its ordered to be put together and shipped, which makes it late as well. I love the products but even if i order the monthly boxes, as soon as they are available , i stll dont get them till almost the end of the month.
Its just frustraing as i love the items in the store and want to add to my collection but the wait kind of turns me off, especially the boxes.
Worth every penny
I've only ordered 2 boxes so far, and neither one disappointed! I've ordered from other places before and paid more and received much less. You can tell every box is put together with care and the quality of the products inside is amazing. The information cards that come with them are so helpful and explain everything clearly. And customer service is incredible! Will definitely continue to order. Thanks so much for not only providing amazing products but also clearly putting your heart into your work as well!
Love it!
I was very pleased with all the goodies that were in the box. Will be very useful on my altar this season. Thank you for your thoughtfulness behind building the box and many blessings for the upcoming winter solstice.
Amazing!!
I was so excited to open the box when it came in!! I loved absolutely everything inside!! I will definitely order again and the customer service is absolutely great as well! Super friendly and on time delivery! Thanks guys I love everything!!
Pleasantly Surprised
This is my first time ordering a box from Inked Goddess and I wasn't quite sure what to expect. I am SO glad I took the chance though. The box was well worth the money, I loved all the products, even the ones I initially would not have thought I'd want (like the chakra dream catchers). The scented items were scents that I enjoyed and just the overall quality of everything was great. Thank you for doing these boxes! ❤️